Have you ever thought about doing a balancing act? Or jumping into the heights with a ball in your left hand and a ribbon in your right hand? Maybe this is the sport which will be right for you!
Rhythmic gymnastics (RG) emerged from competition gymnastics, with and without hand devices and is carried out with music. RG is mainly characterized by gymnastic and dancer elements and requires a great deal of body control, balance and rhythm. Rhythmic gymnastics is a purely female sport, even though there have been first RG competitions for men in Japan and Spain in recent years. In RG there are five hand devices: Skipping rope, hoop, Ball, club and ribbon. I practiced not rhythmic gymnastics, only gymnastic. The different between these two types of gymnastics is that RG is more disciplined and you have 5-7 times a week training, in gymnastic only 2-4 times.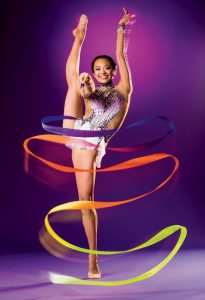 I started gymnastics when I was six years old and finished when I was seventeen. In the first couple of years I had to learn how to stretch my toes and my whole body. I also revised how to handle the hand devices and dance in time with the music. In my first competitions I was really good, always reaching the second place on the podium. After 4 years we formed a gymnastics group and had more training, I think 3 times a week. First we were one of the best groups from our canton, then we formed a new group and we were very bad. I can remember, we trained so hard but nothing changed and we were so sad.
In my last year we went to one competition and we got the second place on the podium, which made me so happy. But my time was here and I knew I have to leave the group now, because I was in my apprenticeship and the final exams stood before me.
If I were a child again, I would choose this sport again. It's such a nice activity and your group will become a little family for you!
Andrina Steiger, St. Gallen, Switzerland