I arrived in Cairns 5 days ago and I have been attending CCEB for only 2 days. When I first landed at the airport, the hot weather welcomed me. Every sight, feeling and the atmosphere were strange. While I was staying in a guest house, I found my new house. It has all passed away so quickly.
Before adapting to my new life, I started a busy day at CCEB. All of the students looked like they were studying hard. Seeing them made me think that I need to work really hard too. I joined free after school activities as well as attended English classes.
One of CCEB's free after school activities is yoga classes. I learned yoga in Korea. I knew something about it. It did yoga outside for the first time. Doing yoga at a park I had only seen in movies. But it came true and was like a dream. My yoga teacher, Sissa, helped us to easily learn the poses. But we were all grunting following the poses and also bursting out laughing.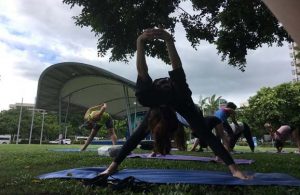 We tried very hard and took the time very seriously. "Breath in and breath out again"; she made us empty our minds of all thoughts. I stopped thinking and focused on what she was saying. I got my breath back to a steady pace. I felt comfortable and relaxed. My fatigue somehow melted away. I have been in Cairns for only a short time and I was kind of tired because I asked myself a lot of questions such as 'Can I handle anything I want?' and 'How can I get better at English?' These worries preyed upon my mind and many thoughts were in my head. I decided to forget them and focus on the now. I thought I don't need to be worried about anything and need to trust myself. A pleasant breeze was blowing softly; the sun was bright and the air was crisp. I was starting to calm down. I experienced a feeling of refreshment and improvement. From the yoga class, I gained confidence and a positive mindset. Whenever I'm down, I would like to remember this time.
Lilly, Intermediate A