Hi, my name is David. I would like to tell you about my favourite sport that I did in Belgium. I've been playing indoor soccer since I was 16. I was lucky to be able to play in the second division in my country and to evolve with very good players.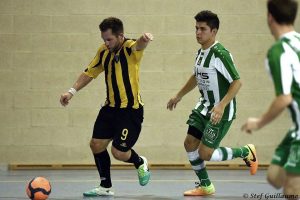 But what is indoor football? Let me explain it to you. First of all, it's a team sport and unlike football, it is played in an indoor place where two teams of five players compete. It is a sport where the technical skill is essential because the playing surface is smaller, so it is necessary to have a good technique ball to the feet.I like this sport because it's a great way to meet people and to be able to free your mind. The rules are different from football because no contact is allowed and the throw ins are done by foot unlike football where the throw ins are done by hand. The duration of a game is two times 25 minutes and substitutes are unlimited.
Here is a YouTube link to show you what indoor football looks like. This is a movie from last year when I played with my old team with the number 11. At the end of the movie, I am interviewed in French about the game.
I am very happy because I belong to a team here in Australia, but the rules of the game are different from those from my country, for example the contact between the players is allowed and the duration of a match is not the same. The Australian rules are very similar to the rules of Luxembourg, where I played for 3 years so it is very rewarding for me to meet people of different nationalities with different rules concerning the same sport.
In the Luxembourg championship, I was voted top scorer in the championship and I am very proud of my performance. It's thanks to my teammates that I scored a lot of goals.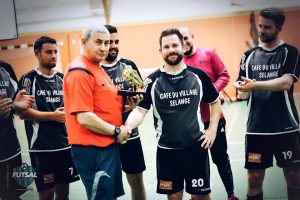 If you are interested in indoor football, together we can create a student team at school. There is a championship in Cairns starting in early March, so just leave me a comment or come talk to me at school about it. I'm sure we'll have a good time thanks to this wonderful sport.
Thank you for your attention. See you at school and do not forget to do your homework, please.
David, Intermediate but…. Upper Intermediate very soon 😉