Last Friday my best friend, whose name is Hyemi, went back to South Korea. When I came to school as a new student, I was so nervous because I was shy and my English was very poor. In addition, my classmates already knew each other and I was a newcomer. However, I felt at ease when Hyemi spoke to me. After that we talked every day and she always invited me when someone held a party.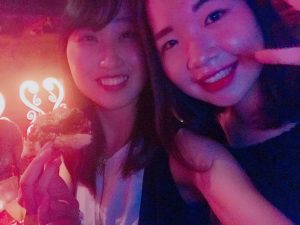 The house which I lived in for the first two months is a little bit far from the city, therefore I took the bus. That was the reason why I didn't join any party for a long time, so I always went back home earlier than her.  She said to me: 'Please, send me a text after you get back.' Her personality is perfect, concerned about me and other friends any time.
I was so surprised because even though she had said to me: ' I will stay in Cairns until December,' she had to go back sooner. I am really sad but I think that our relationship is forever even if we can't meet, live in different countries, and I also believe that we will meet again.
When I visited her share house to say good bye, she promised me to visit Japan next year and come back to Cairns. In addition, she gave me a letter which is my treasure.
She is going to send a letter this week so I am looking forward to receiving it.
I never forget the time I spent with her. I was lucky because I made the best friend in this school. I didn't say to her: 'See you!' I just said 'See you later!'
Aoi, Upper-Intermediate