Everyone knows that Kuranda is a must-see destination when visiting Cairns. Only 27km from the Cairns CBD, it is home to the Baron Falls, Rainforestation Nature Park, and the Kuranda Markets to name just a few iconic attractions. So when planning the itinerary for my American mother's first visit to Oz, Kuranda was at the top of the list. But with so much to do, where do you start? Well, it was easy to decide on the Australian Butterfly Sanctuary, the largest butterfly aviary and exhibit in all of Australia.
Enter the butterfly haven housing over 2000 butterflies from the well-known but elusive electric blue Ulysses to the resplendent Cairns Birdwing. This enchanting carnival of colours is locally owned by the Woodward Family and has been open to the public since 1987. It has a completely self-sustaining breeding programme, meaning no butterflies are taken from the wild, a significant feat since there is no other butterfly sanctuary around the globe that rears all of its home-grown stock.
Included in admission is a 30-minute tour where an expert describes a butterfly's life cycle and behaviour.  My mom and I were lucky enough to have our own private tour given by the lovely and hospitable Amanda from CaPTA who pointed out her favourite spots in the aviary. She shared her tricks of the trade, for example, standing near the feeding spots to get the best shots of butterflies. Amanda particularly loved the massive green and yellow Cairns Birdwing and was our 'lookout,' enabling me to snap a photo of the splendid being in flight. While admiring the splendour surrounding us, not only did mom and I sneak a peek into this fairy-like kingdom, but we also brushed up on butterfly facts. Did you know that butterflies taste with their feet? That is only one of the many facts displayed throughout the grounds, making it quite entertaining for kids and grownups alike.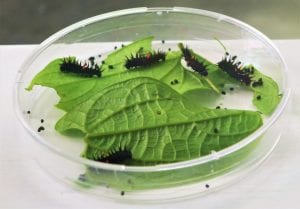 Do go behind the scenes and take advantage of the tour of the laboratory where up to 4,000 caterpillars reside. Louise was our well-informed guide who demonstrated her passion for the subject through her enthusiastic spiel on the lifecycle of butterflies. Mom and I discovered that each stage of a butterfly/caterpillar's life is called an "instar," with the pupa or chrysalis stage being the final instar before metamorphosis, the almost-miraculous transformation from caterpillar to butterfly. But it all starts with fertilised eggs, which looked like little black specks in the petri dish. Once it's ready to emerge, the caterpillar eats its shell. After a week of gorging on leaves, "the very hungry caterpillar" sheds its skin (and eats it too!).
Speaking of which, without a doubt, the highlight of our day was witnessing a mammoth Hercules Caterpillar shedding its skin in real time. The herculean creatures are massive in comparison to other species as well as intriguing; we didn't know which end was which as they have 2 large fake eyes to confound would-be enemies. Coscinocera Hercules is a moth native to tropical Queensland and its namesake is by no means an accident; the bird-sized moths can have a wingspan of up to 27cm, the largest wing area of any moth in the world. The largest Hercules moth ever recorded was found in our neighbouring city, Innisfail, in 1948, with a wingspan of 36cm! But what I found fascinating and at the same time heart-rending is that adult moths never eat, being born without an operational proboscis (mouth) and, therefore, live fleeting lives. Nearing the end of the life cycle, the Hercules moth only exists long enough to find a mate and lay eggs, meaning their ephemeral existence lasts between 2 to 8 days.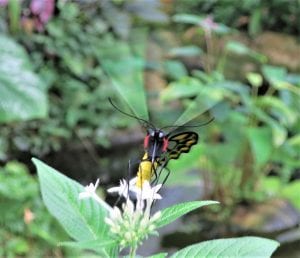 One of the facts that stuck with me is why butterflies live transient lives. Louise explained that the scales on a butterfly's wing flake off each time it flaps its wings. Therefore, the more a butterfly flutters, the shorter its life. Louise proceeded to show us the scales of the out-of-this-world fluorescent Ulysses Butterfly under a microscope. This evanescent wonder only lives up to 10 to 15 days due to its high flap rate. Unexpectedly, this tour prompted me to reflect on how time is relative and that some creatures live a lifetime in our human fortnight. This insight inspired in me a greater appreciation for every stolen glance I've had of these magnificent beauties.
Towards the end of our visit, Mom was even lucky enough to have a butterfly land on her! But there is actually more of a science to charming these winged-insects than luck. If you want to be a human landing strip, be sure to wear bewitching colours like hot pick, white, and red, duping these darlings into believing you are a flower. And on the subject of colours, the sanctuary contains a dark room where guests can "see" from the perspective of our fluttering friends. The ultra-violet display was mesmerizing; for one moment, you experience the allure of a flower apart from anything else.
Our last visit was a stop by the museum where hundreds of butterflies are on display. You also get a glimpse of some amazing butterfly photography and catch sight of butterflies from other regions. Australian Butterfly Sanctuary is sure to delight the whole family and is a must for any nature-lover holidaying in FNQ. If you would like to discover more about the Australian Butterfly Sanctuary, visit their website at https://australianbutterflies.com/ and visit CCEB Travel.
–Nina, CCEB Teacher