Hello!! Today, I'll talk about my rugby life in Cairns. I joined a local rugby team two weeks ago. As a result, I made a lot of new friends and got many experiences.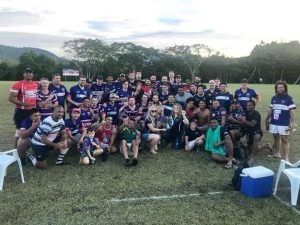 Last Saturday, our team had a big game at Machans Beach. We absolutely had to beat our opponent in order to win this season. All the players of the opposite team are bigger than me, so honestly, I was nervous. In the first half, we played very well, and then, luckily, I scored a try!!! It was so exciting!!!!! As soon as I scored the try, my teammates and coaches praised me. However, in the second half, we lost the energy and many points. Finally, we gave up. As a result, we lost, but I think we found out about our strengths and weaknesses. The season continues until September, so we will try to win the next game.
I think any sport can give you a opportunity to connect with other people if you can't communicate with them well. And I'm sure that you can improve your English if you join some local team. In my case, it's still difficult for me to understand English, but so far, it's ok. Rugby has made it possible for me me it. So why don't you join the local sport team and have a special time!!
Mahito, Intermediate Class