My experience in Australia is coming to its end. I still remember the moment when I first saw the email from Sally, my studies advisor, asking me to take part in the competition which has brought me here. The same time of the day as it is today, even the same pen and notebook with which I wrote the essay in February, but now I am in Australia and I am writing in order to express how grateful I feel. First of all I would like to thank Sally and Maria; if not for their help none of this would have been possible. Since the email mentioned above until today, they have always been one call away and provided me invaluable help with any issue that I have had to deal with. Thank you.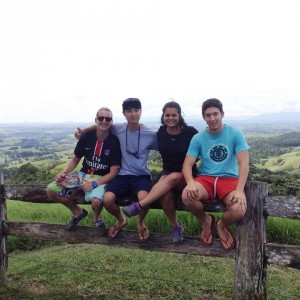 When it comes to my time in Cairns, the name that first comes  to my mind is Carolina, the manager of Lake 67. She helped me to adapt and get to know the city at first and then advised  where to do every activity around Cairns and beyond at the best value for money. She has even gone further and helped me personally by allowing me to take the exams of my Spanish university while in Cairns. It is so important for me and I feel really grateful. She is just as kind as all the staff of Cairns College of English are, a studying experience that goes beyond the books and I believe I will never forget.
Finally, I would like to thank Ian Hill, I feel lucky that he has been my teacher. He is not only an experienced professional who knows better than anyone how to make his students succeed  but I also believe he is a wonderful person, which you can realize if you attend his lessons for a while. Wise, dedicated and always willing to help with any problem.
Thank you everyone, it has been the best experience of my life.
Angel, Cambridge Class