Last weekend I went to Cape Tribulation by car with my friends from school. 
They picked me up at 8.30 a.m and then we started our trip. The first stop was Port Douglas which I think is a beautiful touristy city.  We all ate a delicious ice cream and walked the streets. And then we continued our trip with the next stop being the Daintree Crocodile Park. However, we only saw 2 crocodiles. It wasn't many but anyway I'm happy we went to this incredible spot.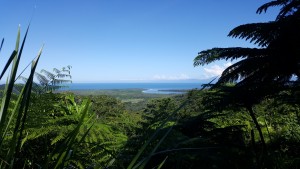 And finally we arrived in Cape Tribulation which is such an awesome place. The water was very nice but we couldn't swim in the sea because it is inhabited by crocodiles.
We came back to Cairns at 9 pm and I was very tired but also happy because I had such a really good day.
Pia, Intermediate Class