Last Saturday my friend and I experienced a very interesting day, full of sunshine and speed. We booked a quad tour at Lake 67 for only AUD 116! It was worth every cent. We drove our car north to Yorkeys Knob on Saturday morning.
We arrived at 10.30 am at a rural looking place. No one was there yet so we sat down at a table and waited. At 10.45 am some Japanese people came and welcomed us. After a short conversation, we signed the "THIS IS DANGEROUS" paper and a man gave us pants and rubber boots to put on. While he was handing us the helmets, an Australian man arrived. As we were putting on the pants and the rubber boots and the helmets, the Australian guy started to explain, how our quads work. It was very easy to remember as you only have a brake and an accelerator.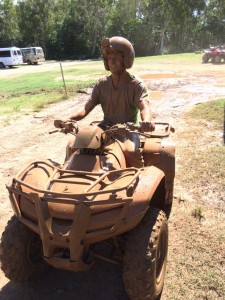 We mounted our GoPros on the quads and started to follow the Australian man. I think he noticed fast, that we were not just regular riders. He drove more quickly and dangerously at the beginning.
We drove up and down and over holes full of mud. I tried to push the quad to its full performance. Sometimes I was really close to falling down from my vehicle or crashing. But this risk made it so much fun for me!
After two hours of this crazy driving, the race was finished. We went back to the starting point and had a shower.
It was a really awesome experience and I would love to do it again!
Fabian, Advanced Class