Paronella Park is an old castle in Australia. It was built by Jose Paronella. He had a big dream to build a castle near his favorite falls. The falls were discovered by him.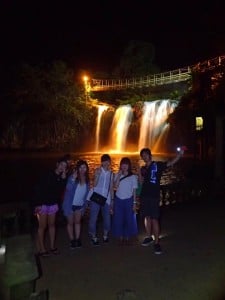 He loved these falls and he spent his life building the castle. I think he was very clever, because the entire castle design came from his brain.  His dream came true. I went there about one month ago with my friends at the night. I recommend night time because you can see a lot of stars behind the castle and falls. I love stars. When I saw a lot of stars, I was excited. I can't see a lot of stars in my home town. But I can see a lot of stars in Cairns. I'm lucky. I have a  free entry card to Paronella Park. It has the expiry date of two years. I'll go there again!!
By the way, Japanese people say that the Japanese animation "Castle in the sky" was based on the appearance of Paronella Park. But actually it's not.
Nanako, Pre-Intermediate Class B