Last weekend was very crazy. We were with friends on a trip. The first stop was the crocodile farm: Hartley's Crocodile Adventures. We saw crocodiles feeding and crocodiles nursery school… 😉 and other animals, for example kangaroos, emus, koalas … I had a little problem with insects and my legs are now covered with a lot of bites 🙁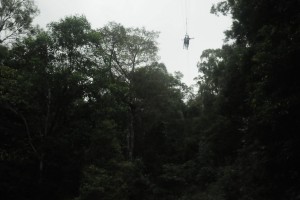 The second stop was AJ Hackett. There is adrenaline sport bungee jumping and Minjin Swing. I was very scared, so I watched my friends. But I'm very curious and wanted a new experience. There was a really big swing, so I tried it. It was awesome. I had to go to the swing three times. When you are up, you must pull the rope and afterwards you go down from 45 metres to 1 metre in 3.5 seconds, reaching speeds up to 120km/h.
I enjoyed it and I recommend it to all people who have a fear of bungee jumping.
Alena, Intermediate A