Here at CCEB we value 'hands-on' experience. Whenever possible, we try to teach our students about things that surround them so that they can have a personal experience and, as a result, remember them better. Due to the fact that the Australian tropics have such a wide array of plants to offer, Elaine and Justyna, teachers of the Pre-Intermediate classes decided to take their students to the Cairns Botanic Gardens for a day trip.
The day before the trip the students had to learn the vocabulary needed (see Maki's worksheet on the left). During their trip, they had to fill in a worksheet ticking off plants they'd learned about and take photos with their phones or cameras for future speaking activity.
Watch the students enjoying their time in this beautiful environment.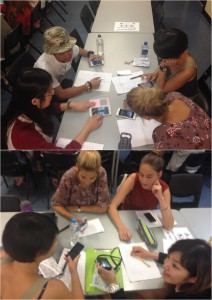 After the visit to the Gardens, the two Pre-Int classes met again to talk about the trip. The students compared their worksheets and photographs (the photo on the left). Some of them researched online the plants they had found most unusual. It turned out that the most interesting plants were the sausage and the cannonball trees. In the survey prepared by their teachers, most students said they had enjoyed the school outing, especially the picnic on the grass, and would definitely take their family and friends to the Gardens in the future.