I went skydiving last Saturday. It was really a crazy thing for me. Like celebrating New Year or SCUBA diving on the Great Barrier Reef, skydiving is something you must do when you visit Australia! A big thanks to Bella who works at Lake67, who told me there was a summer special in December, so I booked it immediately with no doubt. After two hours drive, we reached today's place: Mission Beach.
About 12 o'clock, finally, it was my turn to get in the shuttle bus to the airport.
Even the aeroplane surprised me, it was really small, no chairs in the cabin, full with just 15 people and no door! When the airplane took off, the beautiful coast appeared in front of my eyes, everyone on the plane was amazed with that. 20 minutes later, our plane had climbed to the required level of 15,000ft. Now it was time to feel scared and nervous. I was to be fourth. After the first one had jumped out of the plane I continued to think about the position. The instructor pushed me to the door, while I tried to be a banana (the position for leaving the plane), I was already in the sky! Trust me you don't have time to scream.
When I cast back my mind, I remember that lots of people had an ugly picture while skydiving, I think that is why the instructor wore a helmet, so I started to make a lot of expressions towards the camera. But the wind was too strong; I couldn't control my face, therefore, only one good picture can be posted. Maybe I will inject some botox first next time! As I enjoyed the free fall, the instructor started to rotate and I couldn't help but to give it a big WOW! The excitement ended when the parachute opened. It should be the time to amazed by the awesome view, but a few minutes later I began to feel dizzy. I didn't eat lunch otherwise maybe I would have thrown up while floating.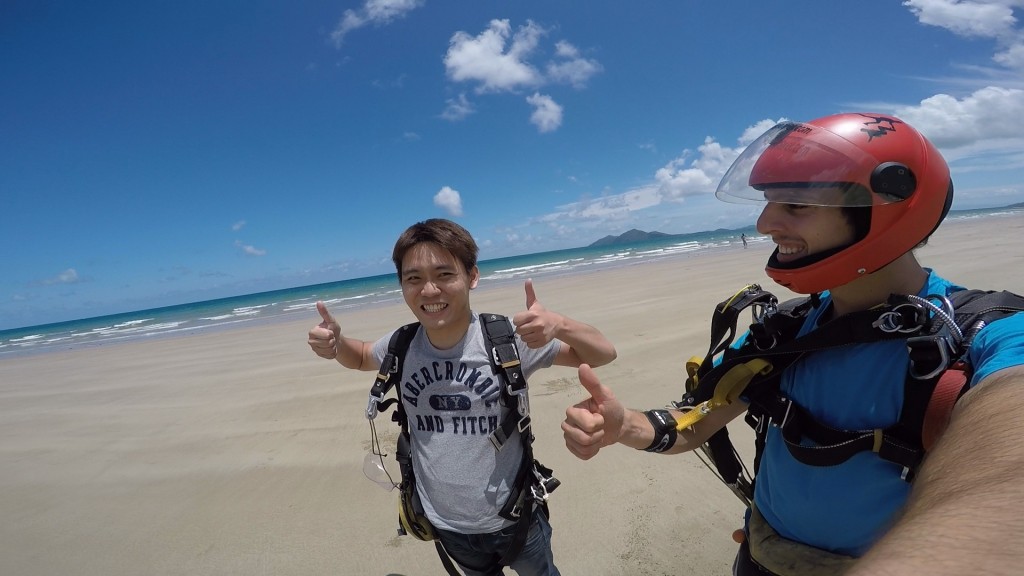 Definitely, if there is any chance, I would do it again. Neither 'amazing' nor 'exciting' could describe this fantastic experience. I absolutely recommend to everybody to try it at least once.
In addition, there was a Chinese couple who also joined the activity but they could only speak a few words of English. Even though I could not understand the crew very clearly, I could still be a translator for the whole day. Keep practicing everywhere every day! OH YEAH!
Ching-Hsiang Chang (Eric), Intermediate B