Green Island, a beautiful coral cay in the Coral Sea located only 45 minutes away from Cairns, has been a popular destination for hundreds of thousands of tourists and locals alike. Everyone who visits Cairns either goes there or at least considers going. The trips to Green Island are affordable and definitely a fun day out for everyone: couples, families and solo travellers.
If you're going to Green Island for a day trip, better get ready for an action-packed day! Make sure you charge your cameras and GoPros as you're in for a treat, especially on a sunny day! Check out this photo, which I took just two weeks ago (in the WET season!). Can you see the coral reef underneath the turquoise blue ocean? Isn't it just wonderful? No wonder Green Island attracts so many tourists all year around!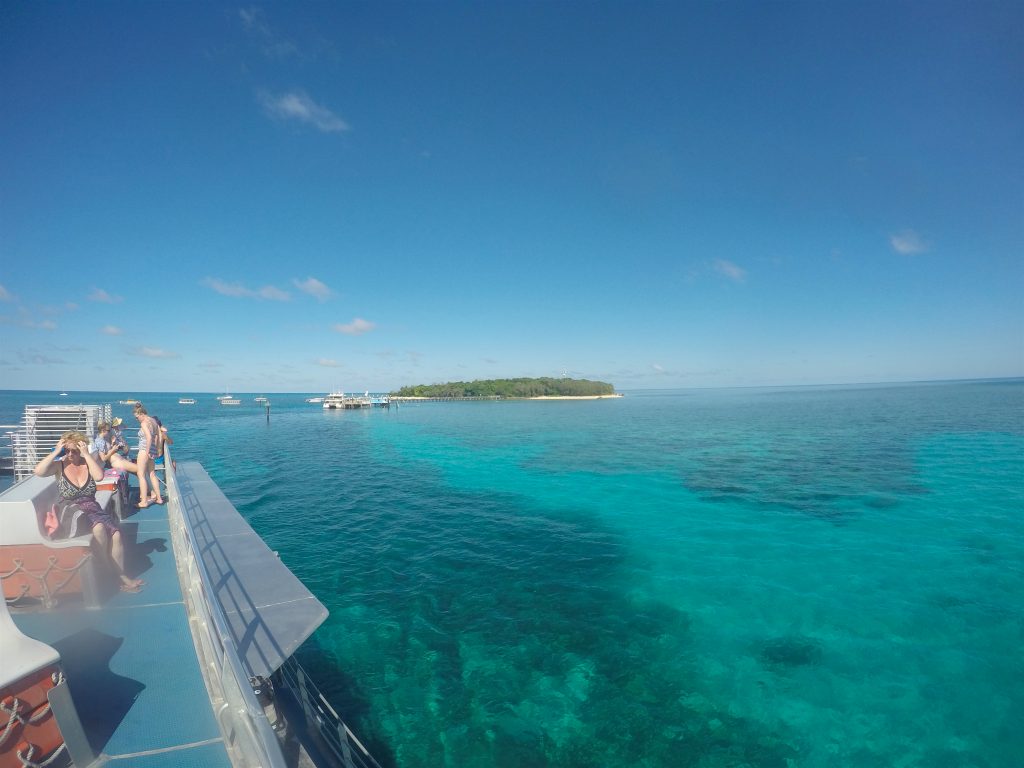 The island itself is not very big and it'll take you about 40 minutes maximum if you decide walk around it on the special guided boardwalk. I have visited Green Island 5 times over the last 3 years and the last time I went I didn't find the time for strolling the beach as my itinerary included a few attractions. This is what my day trip itinerary with Big Cat looked like (you get one of those on the boat):
Day trip itinerary
9 am Board the vessel
10 am Submarine tour
12 pm Lunch on board the vessel
1:45 pm Glass bottom boat tour
3:45 pm Departure
Sounds busy? Definitely! And to add more excitement to my day I also decided to squeeze a Seawalker experience in between the submarine tour and lunch! It was at the Reef Terminal that I noticed Seawalker advertising in the form of a cardboard cutout. As you can imagine my friend and I couldn't help it but put our heads in the holes along with many other people who followed us.
When in the morning we arrived at the Reef Terminal, the helpful staff (Jess in the photo below) assisted us with everything relating to our booking. We found out what the plan for the day was and received maps of the island and information leaflets. We were also told that we would be going to the island on a smaller boat but coming back on the big catamaran.
The aptly named Reef Rocket is the company's smaller catamaran which can accommodate up to 120 passengers (in the photo below you can see the boat right behind me).
The Reef Rocket turned out to be very comfy. It was equipped with a few flat screen TVs and had a licensed bar. Free WiFi was advertised on the TVs which were also showing beautiful movies about the Great Barrier Reef.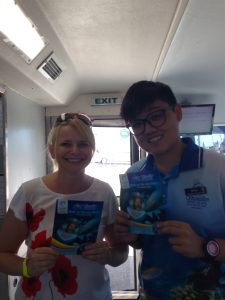 After paying a $20 deposit, the passengers got their snorkelling gear (a mask with a snorkel, flippers and a wetsuit) which they could hold on to throughout the day on the island. After I got my gear, I went to speak with Simon, a Seawalker staff who was on board available to talk to the passengers who were willing to buy the additional attraction.
I had to fill in a medical form to be able to do a Seawalker. I believe giving as much information as you can regarding your health condition is fully understandable as the activity, which is also called Helmet Diving, involves staying underwater for about 15-20 minutes. I was really looking forward to walking on the bottom of the ocean and meeting all the locals 😉
Upon our arrival, the friendly staff who were awaiting us at the jetty, guided us to our next attraction which was a semi-submarine trip. The boat is presented in the photos below:
It was air conditioned but s it was a very humid day, it was still a bit hot inside. On the walls, next to the laminated pictures of various sea life, I noticed signs in other languages:
The weather was perfect for underwater exploration with the sunrays reaching far underneath the ocean surface and making everything look even more beautiful and full of life.
The schools of colourful tropical fish swimming by looked curious and came very close to the submarine making you feel as if they were looking you in the eye. I couldn't help thinking that they were staring at me! I really enjoyed these funny encounters.
The live commentary made by one of the crew members was very informative and interesting. We could also identify the marine life we were watching on the laminated pictures hanging on the walls. Green Island is well known for sea turtles and we were fortunate to see one or two, however, I didn't manage to capture it on my camera.
After this dry underwater exploration, we headed to the dive shop located on the island from which we were to be taken in a little dinghy to the Seawalker platform in the sea.
Before we did, however, we had to go through a very helpful Seawalker briefing. The friendly staff showed us a short movie about safety instructions and explained us the main signs we would later on use to signal different things underwater.
After one of the crew members, Asuka, helped us put our wetsuits and water shoes on, we headed towards the beach where the skipper Francis was waiting to take us to the Seawalker platform in the sea (see picture below).
Once on the platform, we met the rest of the crew: Jan and our instructor Peter as well as the photographer who took all the Seawalker photos for us which we could later on buy at the shop.
I had no idea of what to expect! I'd gone scuba diving twice in my life and always had issues with equalising so, to be really honest with you, I was excited but also a bit anxious about the diving part of my adventure. Well, I can assure you now, if you are like me, don't worry! Sea walking with a diving helmet is much easier than the actual diving with a tank and you don't have to deal with the gear yourself! What's more, if you ever feel like your ears are blocked and you need to equalise, just put your hand underneath the spacious helmet, pinch your nostrils and blow. I guarantee you that your ears will pop straightaway!
During the Seawalker adventure, all the participants are holding onto a metal rod and their every move is guided and fully supervised. You don't even need to be able to swim, as all you do is walk on the smooth sand of the sea floor. It is a really very safe attraction with your underwater guide checking with you if you are ok almost every minute.
Thanks to all this, my initial anxiety disappeared completely and I could fully enjoy my encounters with the super friendly and very curious locals as presented in the photos below.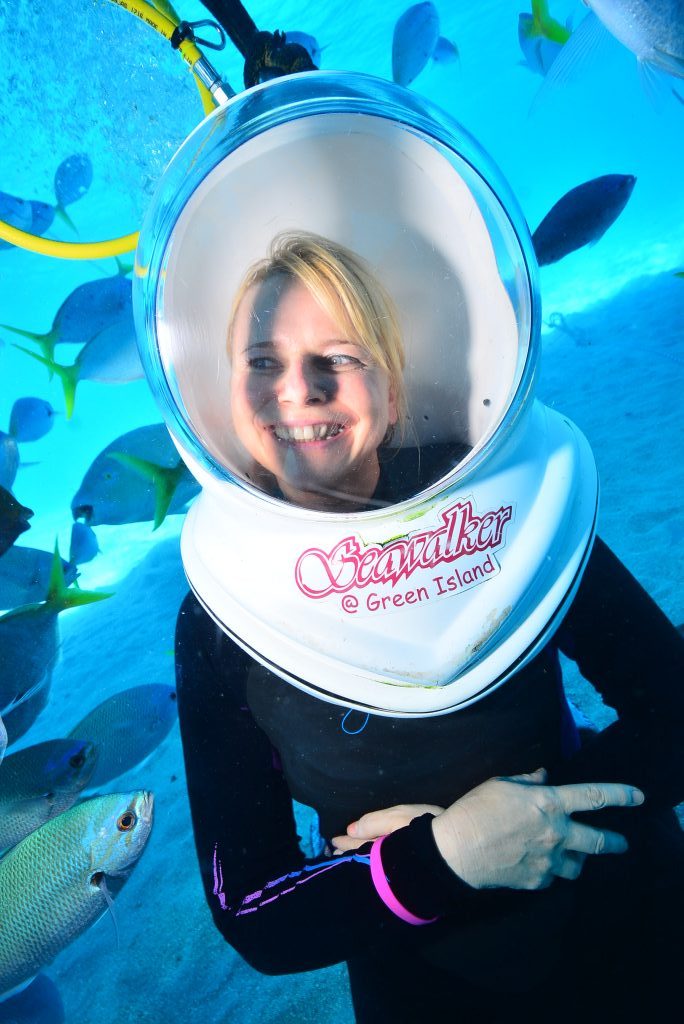 The whole experience starting from moment of the briefing to going back to the shop lasted about 45-50 minutes. After my underwater adventure finished, I was pleasantly surprised to find out that my hair is totally dry and my make-up intact! What a great discovery! 😉
In the meantime buffet lunch was served on the big boat:
As I was too hungry to take more photos of the delicious food, you'll just have to do with this one, which shows my plate:
After lunch we got the energy back to go snorkelling before our glass-bottom boat trip. We decided to snorkel right from the jetty as many other people did as well.
Again, there were heaps of colourful fish in the water, just meters from the jetty.
Apart from clownfish aka Nemo, we also saw gigantic clams and colourful reef: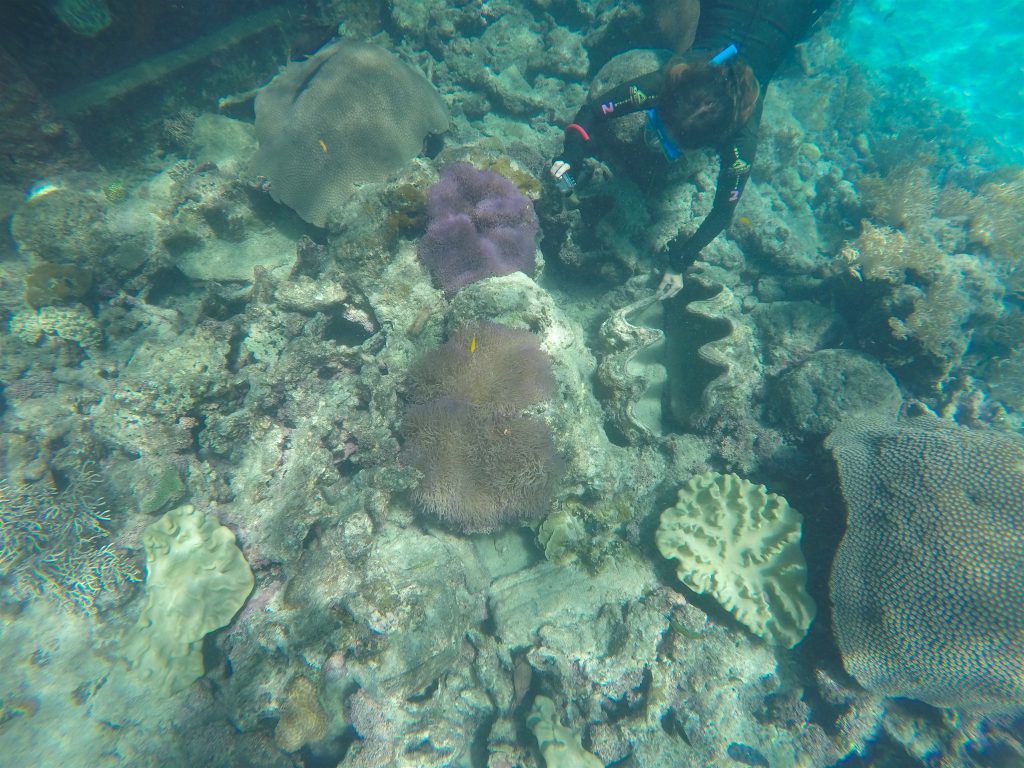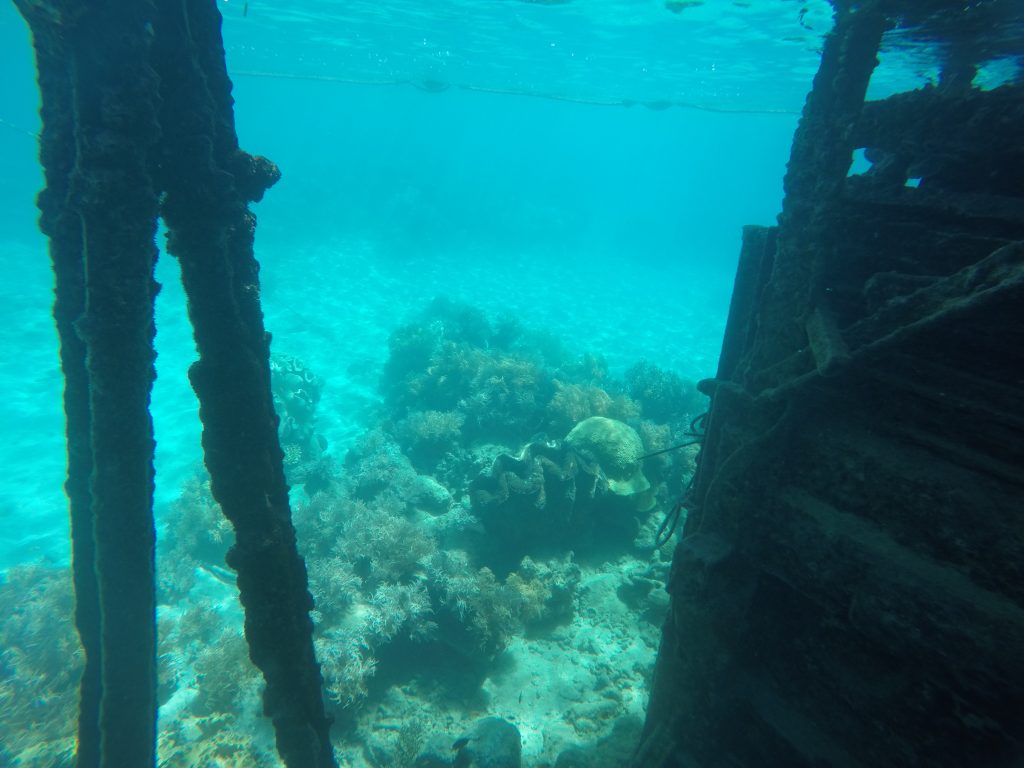 We really enjoyed the snorkelling on Green Island!
The glass-bottom boat trip was very exciting too! (no photos sorry!)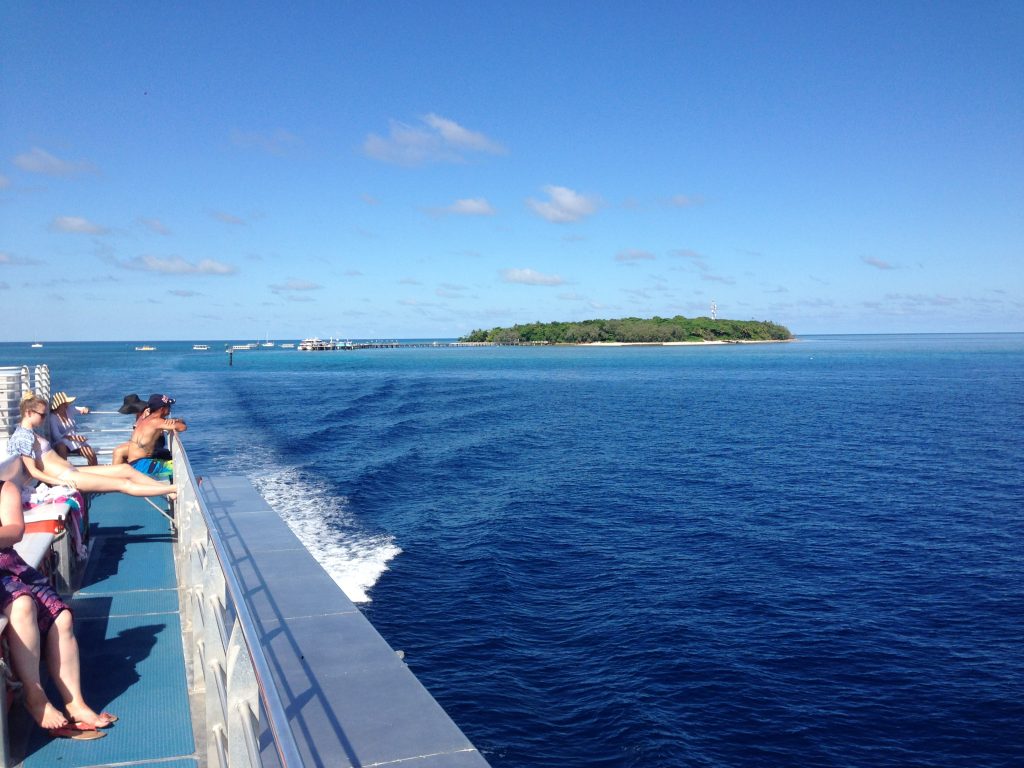 We were coming back to Cairns by the Big Cat's bigger catamaran, which was very comfortable, air conditioned and spacious. It had a couple of levels, free drinking water facilities and a phone charging station. From the upper deck, you could soak some sun or simply admire fantastic views around you.
At the end, we had a photo taken with all the staff that made our day trip special. Highly recommended! Thank you heaps Big Cat!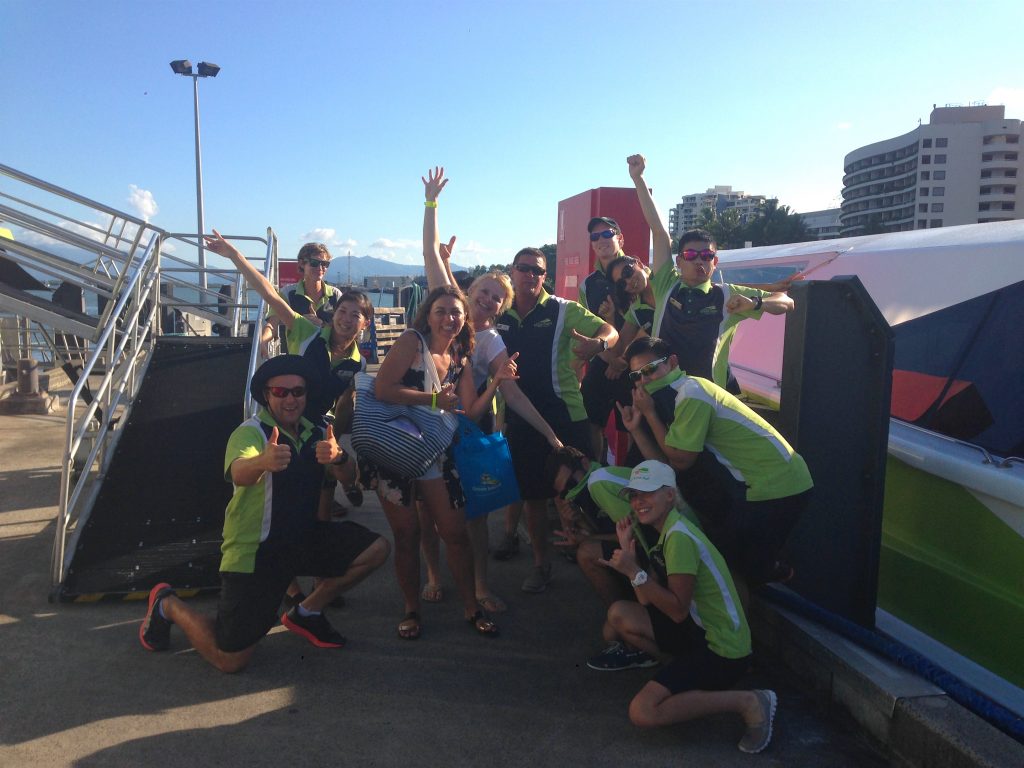 Justyna, CCEB teacher and blogger 🙂