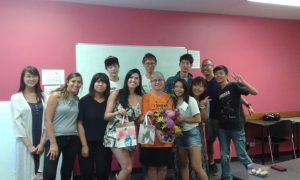 It has been a week since I left CCEB. It was a wonderful farewell and I will remember it for a long time! I cried a lot and I helped the tissue business, that's for sure! If you saw my speech at graduation time, you can see how nervous I was and so full of emotion! Now I know how students feel when it's their turn to stand in front of everyone! It was a 'sea' of people looking at me and I think I added quite a bit of salt to the sea! I was very sad to leave so many great people and experiences, but happy and content in my decision. I had been at the school for 6 years and it's now time for a new direction in my life. I'm not sure where that new direction is, but with patience and some passing of time, it will become evident and the road will open up before me.
I've been a teacher for most of my working life (a long time!). I've taught children in primary schools in Australia (New South Wales, Tasmania and Western Australia); children in a village in Zambia aged 3 to 19, most of whom couldn't speak or understand one word of English, sometimes in a room and sometimes outside; primary and high school children in Cape Town, South Africa, who were 'street children' and hadn't previously had the wonderful opportunity to receive an education, couldn't read and were desperate to learn; men from Afghanistan who were asylum seekers in an Immigration and Detention Centre in Derby, Western Australia and international students at CCEB! In all honesty, teaching at this school has been the most rewarding and enriching. Teaching is an incredible profession and sometimes people think we just have all this knowledge and we 'give' it all to the students – we 'feed' and they 'eat'. Sometimes we try to 'feed' but the students aren't hungry! It's so much more than that. What I tried to express in my speech was that I have given a lot to my students (it's hard work 😊) but I really have received so much more back from students – their acceptance of me, their understanding and forgiveness when I have made mistakes (lots!), their interest in me and their love! In doing this job I have learned so much about myself and about other people. The really good thing is that sometimes students even learned some English because of my teaching – amazing! I really love 'sayings' as they give me things to think about and the other day I read "Throw kindness around like confetti." Confetti is all the bits of paper we throw at the wedding couple. I'm not sure if it exists in other cultures or if we do it anymore…it's very messy! I think life is 'messy' sometimes, but if we are kind to others, it's great to see how we can affect them in positive ways. If you meet someone who's nervous, tired, confused or frustrated, be kind and you will make them feel better, maybe not straight away, but you will. Sometimes you don't know where your 'confetti' will land, but keep 'throwing' it anyway. I would like to thank SO many people who have been kind to me. The wonderful staff who have helped and supported me and the hundreds of students who I have had the privilege of teaching, meeting, listening to and laughing with. THANK YOU!!!!!!!! I have heaps of wonderful memories from my time here and I've been called 'mother', 'grandmother' and 'old lady' as well as 'crazy' (true!) and lots of other lovely things and names.
It's been an honour and a privilege to be a part of this school and I am so very thankful and grateful. My heart is full of very special treasures.
Enjoy life, be kind to others, give from your heart and the best thing you can do each day is 😊!
Krystyna xoxo