My whole diving life started in Cairns when I came to Cairns for work as a dive instructor in 2014. So, let me tell you about my Cairns diving life.
When I came to Australia on a working holiday visa, I was a dive master. Before coming here, I had already asked one dive company by email when I could start training there to be an instructor.
Most of my friends ask me, "Why did you came to Australia?", and "Why did you choose to come here?"
At first I didn't reckon I wanted to come to Australia, I just wanted to come to Cairns, because I wanted to work as a dive instructor and I knew that there is a spectacular natural world heritage site named the Great Barrier Reef which we can see from space!
I started training with the first company where I learned about diving; not only how to dive, but also how to provide customer service, plus knowledge of fish, coral and marine biology. That time was extremely hard and made me tired but it was a memorable time for me. And I loved it!
Anyway why was it a memorable time, even though I was tired and it was so hard?
The main reason was my customers' happiness! When customers thanked me and looked like they had really enjoyed themselves, I felt satisfied. I still remember when I did introductory diving (that is for a person who doesn't have a diving license) with a customer, but that customer couldn't dive well because she was worried about going underwater. The customer gave up her first dive and I looked after and I was thinking what method is good to solve that problem?
Definitely, there were some reasons why the customer couldn't dive. After I had tried many ways which focused on getting used to breathing on the water surface, the customer was finally able to dive!! And we did two dives together! Can you believe she is a diver now that means she did a dive course and got a license! Can you believe it ? When she told me, I was sooooo happy for her. When I hear these sorts of responses, I'm so proud I work as a dive instructor!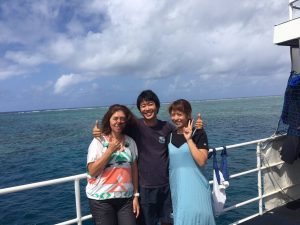 From that time on, I reckon a part of my job is watching people. We are going to find out some reasons and discover what are they thinking, e.g. they worry about not being able to swim, etc. Other customer experiences include getting sea sick. Such a situation also makes customers not take part in diving.
Fortunately, the present company will sponsor me to stay in sunny Cairns forever. However, I don't have enough English skills (IELTS).
For a sponsor visa we must get a 6 in  IELTS in each skill: "reading","listening","writing"and "speaking". Now I'm studying with "Cairns College Of English and Business" to improve my IELTS score to pass this exam. The class is really nice. The school has a variety of levels and IELTS and Cambridge preparation courses.
All the teachers have a high level of qualification and experience. The students can get some extra tasks if they want to do extra work which the teachers will then correct. IELTS writing tasks also are not easy ones in IELTS – it is an essay so we must know what is formal and informal to do a writing task. Not only vocabulary is important but it is also necessary to check if the essay has an appropriate topic sentence or not. It's not easy to write in English but there are awesome teachers and great school's facilities and all this is gonna help you. I'll do my best and keep going with them. Everything will be fine!
Satoshi, Lake67