When living in Australia, you might find yourself in situations where you have to be able to express your disappointment with certain products or services and the use of good English can be helpful. In order to prepare the students to deal with such a possibility, Justyna, the teacher of the Intermediate Class, gave her students a special writing task this week. During their computer session, they had to write a letter or email of complaint. She found it really interesting to hear what the students complained about 😉 Below are some examples:
From: Mayuto
To: The owner of the share house
Dear Sir
I am writing to you to complain about the noise and dirt in my share house.
First, some house mates have a party every night. It continues until about 12 am. I cannot study and I cannot sleep well. Moreover, the parties are supposed to take place in the living room. There is garbage and some dishes remaining until next morning. So I often find ants and cockroaches in the living room. I am disappointed because the house is not clean and I do not enjoy living here. I would be grateful if you could fix my problems which make me really unhappy.
I look forward to your reply and a resolution to my problem.
Best regards
Mayuto
To: Rental house agency
From: Victor
Subject: Complaint about weekly cleaning charges
Dear MR/MRS
I'm sorry to have to inform you that the weekly cleaning charges are not in our contract and therefore the charge $50 per hour is not legal.
I am disappointed because you hadn't sent me any notice by e-mail or mail before you organised a cleaner to come to our house.
Certainly, you sent me an e-mail with the invoice for the cleaning charge. I really don't understand why I should be obliged to pay it every week until my contract expires. That's ridiculous!
I would like you to cancel the weekly cleaning charge as it's not in our contract. Unless I receive a satisfactory reply, I will write to the Residential Tenancies Authority.
Yours faithfully
Victor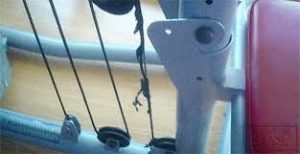 To: Fitness Club Manager
From: Benz
Subject: Letter of complaint
Dear Sir
I am sorry to have to inform you about the poor condition of your machines.
I am disappointed because during my workout the cable in one of the machines got torn and hit me on the left arm. Even though my arm is OK now, I think you have to check everything every day before opening. I do believe you should tell your staff to take care of the machines more often. You should check up on every piece of equipment and repair or maintain it on a regular basis. I do not want any compensation from you, just please solve this problem.
I look forward to your reply as soon as possible.
Kind regards
BENZ