The border of the Czech Republic is created by the mountains in all directions. The famous mountains are Krkonoše with the highest mountain called Sněžka with its 1602 m above sea level high in the north of Czech. I love all the Czech mountains such as the Jizerské mountains, the Orlické mountains, the Jeseniky, etc.
I get very happy when I see the lovely outlook from the top. I come from a small town in the middle of the Bohemian-Moravian Highlands; it is an extensive and long range of hills and low mountains stretching for over 150 kilometres.
I would like to give you some information about the most important mountain in my life, which is Králický Sněžník. When I was a small child, I had breathing problems and one of the medical recommendations was to "go to the mountains".
Even though I was living in the Highlands with the cleanest air, my parents decided that we should go to the Jeseníky Mountains. I was 2 years old at the time and the whole family fell in love with this place. Regular visits to Jeseníky became our family tradition and we used to go twice a year – once in summer and once in winter. One part of the Jeseníky Mountains is the Králický Sněžník massif with the mountain Králický Sněžník (1424 m above sea level).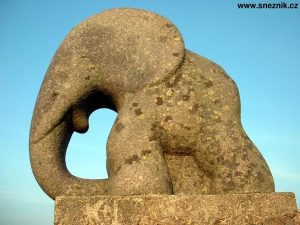 The landmark of the Králický Sněžník mountain is the Elephant stone statue. When you reach the top of the mountain, just next to it you see a small statue of elephant. But nobody knows, how the statue cropped up on the mountain.
One of the stories about the statue's history is that the statue is a border stone built by the students from the not far town Šumperk, but the real origin is quite different. The elephant statue was built as symbol of 10-year anniversary by the German art association Jescher in the year 1932.
If you go up to the top of Králický Sněžník and follow the yellow tourist route from the village Stříbrnice, don't forget to stop in the traditional hut Návrší, which was built in 1928. The staff will prepare their delicious blueberry's dumplings for you or you can taste a well-chilled Czech beer. If you want, you can buy a small Elephant's statuette as a gift.
The hut Návrší offers accommodation and boarding during the whole year.
If you visit the area of the Jeseníky Mountain, I hope that you will be thrilled from the untouched nature, lovely outlooks, friendly people, sports and tourists' possibilities.
Katerina, Intermediate Class