Are you interested in winter sports?
To someone interested in either winter sports games or Korea, I have good news.
If you are, there are the Winter Olympics happening in Korea soon!
Next month, the 23rd PyeongChang  2018 Winter Olympic Games are finally held in South Korea.(from 9 to 25 of Feburary, for 17 days). As you can imagine, anyone who enjoys winter sports is looking forward to this event.
PyeongChang hosting the Olympics has fabulous mountains, lots of snow, clean air and rivers, friendly people, and it is famous for tourism, just like Cairns. So, Koreans usually visit the place for vacation to release stress and purify their mind.
If you plan to visit Korea, I would strongly recommend that you go on a trip there.
Until now, 92 countries all over the world have signed up to participate, and athletes will compete in 102 events and 15 main sports. Russia's participation has been rejected by the IOC because Russian athletes made violations as they took prohibited drugs in the former Olympics in Sochi.
The Olympics' slogan is "Passion and Connected" that refers to a world in which everyone is connected via shared passion.
The Olympics have two mascots, "Soohorang and Bandabi". First, Soohorang, the Olympics main mascot, is the white tiger which has been long considered Korea's guardian animal, and Bandabi, the Paralympics main mascot, is the Asiatic black bear which symbolizes strong willpower and courage in the Korean folklore.
Additionally, I'd like to highlight another interesting fact that North Korea is expected to participate in the Olympic Games. Consistently, South and North Korea keep talking about sizing of attendance, unified teams, the way to visit the place and so on. For this reason, South and North Korea are going to peacefully solve many problems that North Korea has created trying to carry on missile testing. Many countries related to the issues are giving positive signals and support the talks and the North Korea's participation.
Before the end of this article, I'll give you a tip. The next Summer Olympic games are going to be held in Tokyo, Japan, and the next Winter Olympic Games are going to be held in Beijing, China.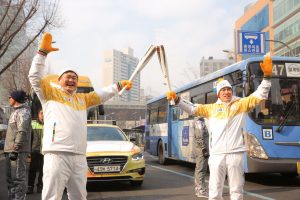 Lastly, I hope that the Olympics will be successful, and to be a successful event, your attention and love are also needed.
Thank you very much for reading my story.
Peter (Namseok Kim), Intermediate Class