Have you ever thought about a place that you want to live in? And if you happen to have the chance to move there, would you move there right now?
In my case, I can say "Yes", and "I'm always ready". So, I'm going to tell you about the place that I hope to live in Korea.
Before telling you my story, I'll give a quiz on this place, and let you guess.
First, it has lots of tourist destinations containing mountains, sea, and lagoons, and is famous for tourism. Secondly, it was the location for the drama, GaElDongHwa. Thirdly, fresh seafood, DakGangJeong (sweet and sour chicken), and Sundae(Korean sausage) are representative food in the place.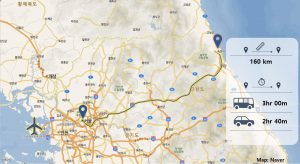 The answer is "SokCho". Maybe, it is the place which is not well known to foreigners.
SokCho, which is 160 km away from Seoul and a small town of the population of about 84,000, belongs to the GangWon province, and is located on the eastern coast of Korea. It has been surrounded by giant mountains and azure sea.
Coincidentally, when I was in military service, I spent some time in SokCho for about 2 years. During that time, I had lots of opportunities to see and visit Sokcho. Whenever I visited, I felt comfortable, so finally I decided that I would move there one day. This was a decisive reason why I'd like to live in it.
Sokcho has a beautiful mountain called "SeoRak", which shows us spectacular sceneries with unique rocks shapes and different colors every season. Especially, in the autumn season, you can see vivid colors of the mountains as if you were appreciating a fabulous painting, so for this reason, I prefer SeoRak in the autumn season.
It also has blue sea and long beaches. Every vacation season, many Koreans visit it to make impressive memories with their friends and families taking many pictures. When I was there, every time I could, I'd watch the sunrise and wander along the beach after finishing my work.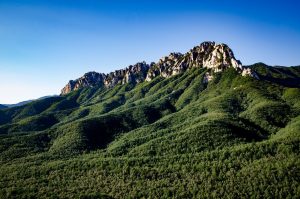 Sokcho has many harbors, big and small, so it is famous for fresh seafood as well as the regions in the eastern sea of Korea. Therefore, I had had eat seafood many times, for example sushi, raw fish and so on. Before I went there, I actually didn't like sea food, but as of getting along with my coworkers, gradually I loved eating seafood. Now, I have been visiting it at least once a year to have excellent seafood.
Additionally, DakGangJeong that many people are waiting for 30 minutes standing to have it, and a delicate flavor of Sundae, are also the representative and famous foods in Sokcho.
Lastly, I want to introduce one destination, in which you might have a unique experience getting on a ship called "GaetBae". Without a detour, using it, people can go directly to the opposite site. The fare is inexpensive (about 20 cents one way trip), but passengers have to pull the rope together with small tools to move it forwards. Since this place was a location for GaElDongHwa drama released in 2000, so many tourists, both domestic and foreign, have visited this place, and at the same time they have experienced it in person.
Are you interested in visiting Sokcho?
If you happen to want to visit it, feel free to contact me anytime. I'm always ready to be with you. 🙂
Thank you very much for reading my story.
Peter (Namseok Kim)