Hey guys, it's me again, Kira!
Honestly, to me, as a German, listening to some of my schoolmates talking about the strange sounding versions of Oktoberfest celebrations in their countries, triggered a slight sense of duty towards my homeland, so that I got enormously encouraged to shed some light on the world's biggest folk festival and its origins.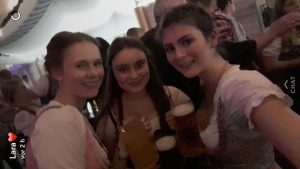 Facts and general information
Oktoberfest has been held every year since 1810, running from September until mid October.
The original idea has its base in Munich (a huge city in the south of Germany), where it is predominantly called "D'Wiesn" which is a colloquial name for fairgrounds. Even though, this tradition is a lot more common in the south, different sized Oktoberfests are spread throughout the whole country.
The annual turnover generated is extremely high, for example the profit of Munich celebrations alone is around 1 billion euros. So yes, Germans make a lot of money with it!
What to wear?
Going to Oktoberfest as a local, you are expected to appear in traditional clothes. Girls wear dirndls with a blouse and boys leather trousers called 'Lederhosen', combined with a checked shirt (usually blue and white or red and white) and knee socks.
It is not very likely to be seen wearing conventional clothes. So, if you ever plan to take part in one of the original German Oktoberfests, make sure you are prepared (I mean, to be honest it is a lot cooler anyway)!
Food and drinks
Let's move on to probably the most attractive part for the majority of you: the German beer. Many people are unaware of the fact that various, specific beers are brewed especially for the Oktoberfest every year, which have to comprise 5.8 to 6.4% alcohol and to have a particular flavour.
Apart from drinking, I would doubtless recommend that you try one of the traditional German dishes offered, such as sausages, lye pretzels, potato dumplings, spaetzle (a kind of noodles), coleslaw and 'Kaiserschmarrn' (ragged pancakes).
Fun things to do
Every single Oktoberfest features huge tents with plenty of wooden benches and tables, where people stand, whilst dancing and singing to typical German Oktoberfest-songs. Nonetheless, attending Oktoberfest located in a large city, such as Munich or Stuttgart, offers you in addition to that a great quantity of leisure activities like Ferris wheels, various rollercoasters, shooting booths, carousels and haunted houses. For all adrenaline junkies among you, I would definitely suggest that you choose a major city. But in every other aspect, a smaller 'Oktoberfest' is equivalent to a bigger one.
Finally I really hope I have managed to clarify the heritage of Oktoberfest and what's behind this, as well as inspiring you consider visiting a 'real' Oktoberfest in Germany.
If you should ever make it to Germany, in order to experience Oktoberfest, let me know! I am more than happy to take you with me, as I go there at least once a year anyway.
Cheers!
Kira, IELTS Class