Hello! My name is Saki and I'm from Japan. I have been in Cairns since Feburary 17th. I'm enjoying my stay here.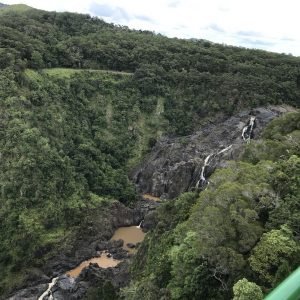 I went to Kuranda on Feburary 24th. The weather was good, so I had a good view. However, I had a sad thing. Kuranda Scenic Railway was closed all day, because it rained too heavily and there was lightning the day before. Instead, I took Skyrail. I could have a good view, so I was happy.  I could see a lot of trees and some blue butterflies, "Ulysses." A Japanese tour guide said "If you can see three Ulysses butterflies, you will have a happy life forever." I saw them more than three times, so I will have a very, very, very happy life!
Also, I was able to hold a koala. It was very cute. The picture is my treasure. Most of the koalas were sleeping, it was also so cute. I patted a wallaby too. I took a lot of pictures there.  Most of the animals are rare for me, so I was excited.  During lunch time, I ate kangaroo meat for the first time.  It was not bad. If someone said to me this meat was beef or pork, maybe I wouldn't notice it was a lie and that was a real kangaroo.
I went down by Skyrail. However, that time the weather was bad. It was raining and the wind was blowing, so the Skyrail gondola sometimes stopped when it caught strong wind. I was a little scary.
I made many awesome and unique memories. That day was a very happy day!!
Saki, Pre-Intermediate A