We are Ubaldo and Maria, a Paraguayan couple who studied at CCEB in 2016. After 16 weeks of General English we left Cairns and went to travel around the world, including a part of Australia of course. We hope you enjoy reading about some of our adventures! By the way, what we have learnt at CCEB was essential to make friends during our trips. So keep studying and blogging, guys!
Our first "encounter" with Chile was during the flight while crossing the Andes Range, on the horizon we could see the mountains covered with snow. For us who had never seen snow before, it was very exciting; a landscape completely different from what we were used to.
We had 3 full days to visit Santiago de Chile, so we chose to focus on the capital solely and forget the nearby attractions such as the wineries, Valparaiso, Viña del mar or the ski resorts.
On the first day we went to Bellavista which is a neighbourhood full of graffiti, restaurant and bars where you can grab some finger foods or drink a couple of beers. We could see a lot of workers enjoying happy hour promotions in many bars. In the same neighbourhood we went to "La Chascona", one of the houses in which Pablo Neruda lived.
Our next stop was Baquedano Square which is a very special place where soccer fans celebrate.  We enjoyed our delicious tereré there until lunch time. For lunch, we chose to go to "La Fuente Alemana" which is a very traditional place, something similar to "Lido Bar" in Asuncion. We had a pork sandwich called "lomito completo"! To give you an idea about its size, let me just say we could only finish one each.
In the afternoon, we decided to first visit the Museum of Fine Arts and then go to the Central Market. Although we are not art lovers, we found the first one very interesting. However, the second one was very disappointing. We had been expecting a place full of colours, aromas and flavours, in other words – a place full of life. However, what we found was a very touristy place with plenty of restaurants fighting for tourists and few stands selling fish and seafood.
To finish the day we went to "La Piojera" Bar which has been open since 1896 and became even more famous in 1922 when, according to a legend, the former President Don Arturo Alessandri Palma said something like "So you brought me to this lice nest" after the director of the Investigation Police suggested going to a place where ordinary people go. At the bar, we enjoyed a "terremoto", a drink the place is famous for and yes, we can say that the place is a "lice nest" 😉 Highly recommended!!!
We started our second day with a visit to the Museum of Memory and Human Rights, a very interesting place established in order to never forget what Chilean people had suffered under Pinochet's dictatorship.
Later we went to "Quinta Normal" a very big park where the National Museum, the Railway Museum and the medical college of the "Universidad de Chile" are located.
After enjoying a good tereré, we had lunch at de la Vega Market, a suggestion of Rodrigo and Daniela, our Couchsurfing hosts. The place was a pleasant surprise; after all we finally found a true market frequented by locals! Aside from enjoying the market itself, we had the chance to try some Chilean dishes. Aside from enjoying the market itself, we had the chance to try some from Chilean dishes. We got "pastel de choclo", Delicious!
Finally, we went to Santa Lucia Hill, where we could see the city from above, plus it was a good spot to watch the sunset.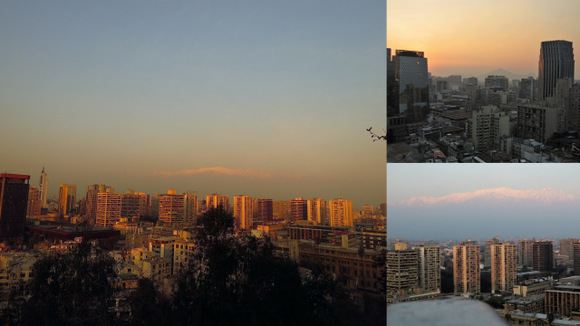 For the last day we scheduled a guided tour to "Palacio de la Moneda", which is the President's office. During the visit we could learn a bit about the place, its history and visit some rooms, plus see the coins made for every president. Nearby the palace we saw the changing of the guards ceremony and a flag-raising ceremony of the bicentennial flag as well.
Later on we went to visit the "Centro Cultural Palacio La Moneda", a kind of museum with different subjects, always very interesting. At the time of our visit there was an exhibition of Egyptian mummies.
After lunch, we went to one more museum, called the National History Museum. The museum shows Chilean history through many objects, including weapons and indigenous artifacts. Later, we went to check out San Cristobal Hill. We had two options available: we could take a cable car and pay the return ticket or just walk uphill for free. Of course we chose the latter. At last, after almost two hours of walking, we were rewarded with amazing views from the top and a drink called "mote con huesillos", which was very tasteful regardless of its appearance.
After one more sunset, we gave up walking the whole way down, and eventually took the cable car, paying half the price of the ticket.
By the end of the day, we said bye to Santiago with a great barbecue and a couple of beers at Rodrigo and Daniela's house. The following day we departed to Eastern Island!
Ubaldo and Maria
Check out Ubaldo and Maria's travel blog at http://tererearoundtheworlden.blogspot.com/