For those who do not know us, we are a Paraguayan couple who have been living in Rio de Janeiro for the last twelve years. We both left Paraguay after high school and moved to Brazil to study at the university. We got married and share the passion for trips and, as every good Paraguayan would, we love tereré.
Now, for those of you who don't know it, tereré is a typical drink in Paraguay, made from yerba mate through infusion in cold water. The process is very similar to mate, the main difference being that mate is drunk with hot water. According to our research, apart from Paraguay, tereré is appreciated in northern Argentina as well as in southern and western Brazil.
On our journey we seek on one hand to get to know new cultures, flavours, places and people. On the other hand, our desire is to show a bit of our culture, to make people to get to know our country and tereré.
We plan to travel five continents and since we are good budget travellers, we are always looking for the cheapest way to see more and spend less. We intend to stay mainly in hostels as most of backpackers do, but we would like to stay with locals as well, at least once in each country, since we believe it is the only way to truly experience a country.     
We plan to record our trips to share our experiences, ideas, problems, adventures, joys, feelings, thoughts, flavours and colours. We believe that in this way we can give back the help we got from other travellers and their respective blogs. It is also a way to show our relatives and friends a bit of our adventure.
———————————————————————————————
As soon as we arrived on Eastern Island, we could appreciate Mataveri Airport, a mix of rustic and modern construction. We were welcomed by a local group playing some traditional songs. After we picked up our backpacks, we went directly to our couchsurfing host's house and then to rent a scooter to be able to roam around the island during the three days we wanted to spend on the island.
After we had lunch, which by the way was a spectacular fish and octopus barbecue prepared by our host Manuel, we went to watch the sunset at Tahai, which is an archaeological site where we had our first contact with Moais Statues. After the sunset we had a rest because our plans for that night were to go fishing. It is good to point out that our host is a big enthusiast of spear fishing. In the end, however we gave up, as it was too cold for us to go underwater, so we ended up just enjoying a beautiful sky full of stars.
The second day on the island was a Sunday, therefore we took the chance to participate in the celebration of a mass in Rapa Nui, which is the language spoken by the original inhabitants of that island. Since the mass was celebrated in a mix of Spanish and Rapa Nui, we were able to understand most of it. We felt like in Paraguay, where sometimes the mass is celebrated in a mix of Guaraní and Spanish.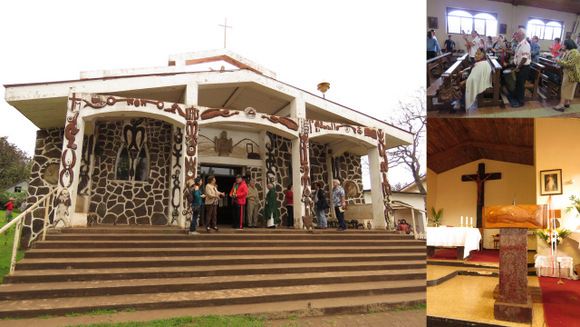 After the mass we went to Hanga Roa, which offers a panoramic view of the island. Later, we went to Rano Kau volcano and Orongo archaeological site. There, we saw some of the houses where the first inhabitants lived; we also learnt about the "birdman" ceremony as well, which was celebrated every July.
The ceremony consisted of a race where participants have swim to a nearby island and back.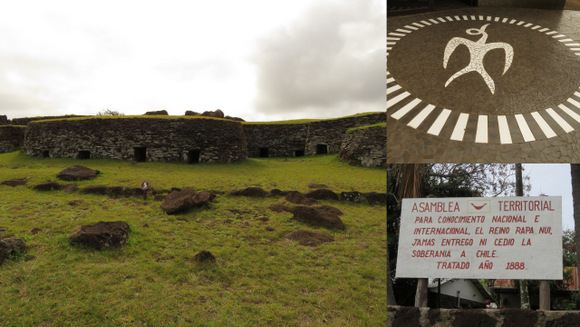 Later on, we went to try the famous tuna empanadas that are made on the island and for lunch it was fish on the grill again!
In the afternoon we went to Haunga volcano, from where it is possible to see one of the most famous beaches on the island called Ovahe. After that we went to Anakena beach, to  appreciate the Moais Ahu Nau Nau and Ahu Hure Huke and enjoy the beach, of course.
For our last day we had something special to do which was to watch the sunrise at Ahu Tongariki Moai site. It was definitely worth the effort!! We went to Rano Raraku volcano, where we could appreciate the view of the lake in the former crater. Nearby we saw many Moais, giant statues, some lying down, some almost intact and others crumbling in pieces, etc. It is believed that Moais were made in this place.
During the afternoon we went to Ahu Akahanga and Ahu Tahai again, this time to visit the places in sunlight. To finish our visit to this mystic Island in great style, we went to Pea Beach to watch our last sunset there. After some roaming around Hanga Roa Town, we finally went to the airport to wait for our flight to our next stop, Oceania!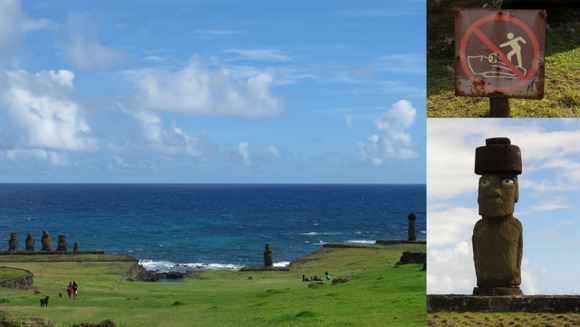 Ubaldo and Maria