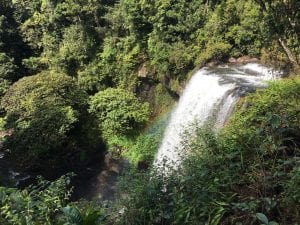 I went on a waterfalls tour with my friends. I've wanted to go to the waterfalls for a long time. There are a lot of waterfalls in Cairns. Each of them is a different place and far away from each other, but this time I could go to many waterfalls.
We traveled around Babinda, Innisfail, Atherton, Mareeba and Kuranda. It was a long trip.
"Josephine Falls"
It was tremendous. When I went there, it was raining a little bit so the quantity of water was a little high and flowing strongly. I was wearing a swimwear but I couldn't swim.
I touched the water with my foot. The water was very cold.
"Millaa Millaa Falls"
Personally, I think Millaa Millaa was the best waterfalls. What a beautiful waterfall!! It seems like a curtain of water. And I liked the atmosphere of the enviornment.
"Barron Falls"
I've been there 2 times. When I went to Kuranda, I had looked at this waterfall. The train went past  this waterfall. And the Skyrail also passed near the waterfall. This waterfall was extremely big and it was a beautiful scenery.
I saw a platypus on the way to the waterfall. I've never seen it so I was excited. A tour guide said that there's 50 % probability of seeing it. Therefore, I'd hoped that I see it. Luckily, I could see a platypus. I think that it was a baby one. It was swimming in the river. So cute!!!
I was glad that I could touch the nature of Cairns. I was interested in it. I'll stay here a few more  months so I'd like to try to travel in Cairns.
Sayuri, Upper-Interemediate C