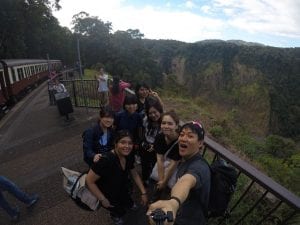 I went to Kuranda with my friends from school on Sunday.
We met in front of the hotel at 9 o'clock and took a bus. I was surprised because nobody overslept. We arrived at Smithfield in about 20 minutes. There was a souvenir shop with figurines and stuffed animals. I got a Sky Rail ticket after going around the shop. When I got on the Sky Rail, the scenery was very beautiful. But when I looked down, I was scared because it was very high. We spoke to other tourists while on the Sky Rail.
We got to Kuranda Village. It was beautiful and quiet. A lot of souvenirs were lined up, and the appearance of the shop was cute. We had a lunch box brought at the park. After having lunch, we drank Kuranda Coffee. I was happy to drink this coffee because it's famous. After that, we saw a lot of souvenirs.
On the way back we took the Kuranda Scenic Railway at 3:30 pm. We talked in the train and ate snacks. I took a picture of Barron Falls. The waterfall was beautiful and powerful. I came back to Cairns Central Station at 5:30 pm.
We were tired when we got home, but everyone was smiling. Everyone was saying "Today was a really nice day!!" I think so, too.
Yuri, Intermediate