For those of you who do not know us, we are a Paraguayan couple who have been living in Rio de Janeiro for the last twelve years. We both left Paraguay after high school and moved to Brazil to study at the university. We got married and share the passion for trips and, as every good Paraguayan would, we love tereré.
Now, for those of you who don't know it, tereré is a typical drink in Paraguay, made from yerba mate through infusion in cold water. The process is very similar to mate, the main difference being that mate is drunk with hot water. According to our research, apart from Paraguay, tereré is appreciated in northern Argentina as well as in southern and western Brazil.
On our journey we seek on one hand to get to know new cultures, flavours, places and people. On the other hand, our desire is to show a bit of our culture, to make people to get to know our country and tereré.
We plan to travel five continents and since we are good budget travellers, we are always looking for the cheapest way to see more and spend less. We intend to stay mainly in hostels as most of backpackers do, but we would like to stay with locals as well, at least once in each country, since we believe it is the only way to truly experience a country.     
We plan to record our trips to share our experiences, ideas, problems, adventures, joys, feelings, thoughts, flavours and colours. We believe that in this way we can give back the help we got from other travellers and their respective blogs. It is also a way to show our relatives and friends a bit of our adventure.
_________________________________________________________________________________________________________________________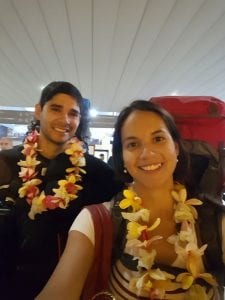 After Eastern Island our next stop was French Polynesia. We landed at Papeete, which is the capital of the archipelago and the main island, Tahiti. All international flights arrive there; therefore it is the most developed city. However, it has a paradise environment, definitely far from a city look. On our first day the only thing we did was to arrive and go to bed straightaway, because it was after midnight, actually after one in the morning. Despite arriving so late, we were welcomed by a group of people singing and dancing some traditional Polynesian songs. They gave us flower collars as well; this is how they greet visitors there. On the following day our adventure started!
We began our day by going to buy some groceries for the next two weeks. Everything was so expensive due to the fact that the archipelago is far away from everything. To give you an idea, the closest country is Cook Islands (more than one thousand km) and the closest one able to provide some goods is New Zealand (more than four thousand km). After we bought our groceries (ham, cheese, bread, canned food, frozen food, etc.), we had breakfast and departed to our first destination there, Moorea Island. The picture below shows the view from our hotel; you can see Papeete's Airport and Moorea Island in the background.
From the airplane we could see the beauty of Moorea, even before arriving there. Our first day was dedicated solely to enjoying the beach and the sunset. The day after, apart from repeating the same activities obviously, we went to watch a group of people who were taking part in the interaction with dolphins. We didn't participate in it because we prefer join such activities with wild animals plus we are a bit stingy, hehehe. We also did some snorkelling in hotel's coral gardens and a bit of stand up paddle, all free activities, what a coincidence! 😉
During dinner we enjoyed a show of traditional Polynesian dances.
The following day we flew to Tahaa, the next island on our itinerary. We were welcomed with flower collars and a welcoming drink for a change. Once settled in our room, beach and tereré. When we went snorkelling among the bungalows, Maria saw a ray for the first time in her life! We ended that day watching a spectacular sunset! And as you can see in the pictures, we weren't alone.
By the evening we had eaten diner and watched a parade of black pearl necklaces. French Polynesia is the biggest producer of natural black pearls in the world. Obviously the parade was to advertise to those willing to spend a small fortune on the pearls. As usually, we just observed. The day after we went snorkelling in the hotel's coral gardens and them just relaxed in the pool. It goes without saying that the snorkelling was awesome. In the afternoon we watched Michael Phelps finishing second at Rio's Olympic Games while eating a hot ham and cheese sandwich. It was pretty strange because he always finishes first. For dinner we took part in a barbecue nearby the pool offered by the hotel, which actually was our first barbecue outside of South America. What a big disappointment for us as there were a few pieces of meat, so I thought the word barbecue was an overstatement, hahaha!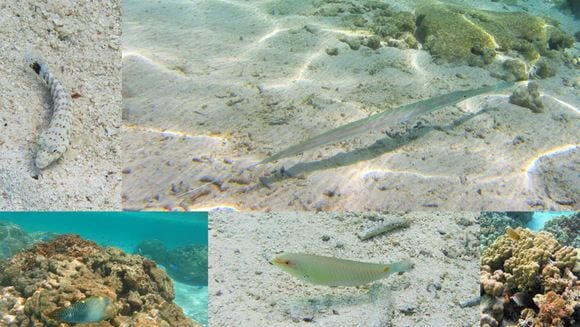 On the next day we did a tour during which we saw some sharks and also went to visit vanilla plantations; we tried vanilla rum. We went to visit a pearl farm and learnt about the production process from the beginning to the end. The next day Bora Bora was waiting for us!
After a failed attempt to watch the sunrise, we took our flight to Bora Bora. We landed and after we checked-in we went to relax on the beach, we saw some rays visiting the hotel's beach because the employees feed them daily. The day after we went parasailing for the first time. We were just speechless as it was stunning: the water colour was something that we hadn't seen before, with different shades of blue, green, turquoise, etc. It's something that pictures can't really show. During the afternoon for a change we went snorkelling and then just enjoyed the sunset.
On the following day we went diving for the first time after our basic diving course. We did two dives where we saw, among other things, different types of sharks, octopus (they disguise themselves incredibly well, try to find the octopus in the top left corner of the picture below), manta rays and maaany different fishes. The visibility was amazing, more than 30 meters for sure! In the afternoon we took part in an event offered by our hotel, which was wine tasting along with some finger foods. Of course we enjoyed the chance to drink and eat for free all we could! 😉 After the event we continued drinking with some Americans whom we met at the wine event.
We began the day with a tour during which we swam with sharks and rays, something very interesting and useful to help decrease our fear of these creatures. The rays were very gentle and it was possible to touch them without any problems. Later on we enjoyed a "barbecue" on a tiny paradisiacal island, imagine that! After going back to the hotel we enjoyed one more sunset with a delicious tereré. The day after we departed to Rangiroa, which was unfortunately the last island we were to visit.
The main reason why we went to Rangiroa was diving. Our first day was dedicated to relaxing, a bit of the beach time and tereré. At the end of that day we went to a place where around afternoon time it was possible to see dolphins passing by.  Unfortunately, we could only see four, but at least we watched a beautiful sunset.
We began the next day with two dives and as usual in that place, the visibility was excellent and the sea was full of life. It was our first time doing a drift dive, that is, we jumped from the boat and the current carried us, so swimming was unnecessary. It seemed like we were flying! And as if that weren't enough, after our first dive a few curious dolphins swam beside our boat for five minutes.
The day after we went diving again, unfortunately it was the last one. Again we saw a dolphin, however this time still underwater, which was very exciting. Marine life in French Polynesia is amazing! We ended up with tereré enjoying our beach time and we did some kayaking as well. The next day, one more leg of our journey started, which was our trip to the land of kangaroos.
Ubaldo and Maria