My school holiday began on August 11th. I went to Kyoto with my best friends from 12th to 13th August. We got on the train and bus, arrived  about 2 hours away from my house. The temperature that day was 36 degrees so it was very hot. We got off the bus, walked for about 30 minutes. I was hard because my body wasn't used to it. When we arrived, we saw a garden with beautiful forests. That place is a famous temple in Kyoto called "Ohara Sanzenin". The wind blew between the trees and there was a river nearby so it was cool. People could relax there. We worshiped at the temples and went to the inn.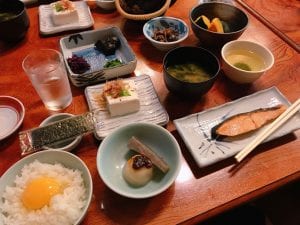 When we arrived at the inn, we first entered a hot spring.  I was very happy. After that, we ate dinner at the hall. I was over the moon that I could eat Japanese food which I hadn't eaten for a long time. When I finished eating the dinner, I went star gazing. Although the road was dark and I scary, I wasn't scared because I was singing songs while walking. After going back to the room, I took a bath and went to bed.
The next day, we went to "Ashiyu Cafe". There you can drink coffee while enjoying a footbath. It's a hot spring so it feels good. It was hot outside but it was cool. The wind was blowing through the forest.
After that we went to the historic temple "Kinkakuji". It's all made of gold and very beautiful. It's a popular spot for many tourists from different countries. If you go to there, you can enjoy it in any season!!
Yuri, Intermediate A