Have you ever gone sky-diving before? Do you maybe want to go sky-diving in the future? Try it! Go sky-diving! It will be the most memorable day in your life.
I have acrophobia, but I wanted to try sky-diving so I did it.I had gone to CCEB Travel and asked about the trip and the cost.  Next day, I booked my sky-diving trip for last Saturday.
On 6th October, I took a bus to go to Mission Beach. After 2 hours, I arrived  there. The weather was nice and it was very quiet. I had checked the voucher and I waited my turn. Before riding in an airplane, the instructor informed me of a sky-diving posture.
Finally, I rode in an airplane with instructor. At that time I was so scared and nervous. While I was falling down in the air, I wanted to hold onto something but there was nothing to hold on to. After I opened my mouth, I couldn't close it. And in my case, it was a bit difficult to breathe. After a few seconds the parachute opened and I finally felt comfortable.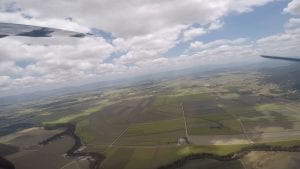 The instructor showed me a wide range of views, turning the direction from side to side. I shouted at the top of my lungs because I was so excited.
Before landing, the instructor reminded me to have the correct posture in order to land safely. Like this, my sky-diving trip ended.
It was a long day, but I thought it would be
the best memory of my life.  Anyone who wants to make this amazing memory, should try this funny experience no matter how challenging it can get!!
Loey, Intermediate A