I was a student at CCEB two years ago. I had started from Elementary Class and graduated from Upper-Intermediate Class in which I was for half a year. Now I've come back here like a boomerang to brush up on my English skills, especially listening and pronunciation and to graduate from Advanced Class. So please talk to me anywhere anytime in English. Anyway, I was surprised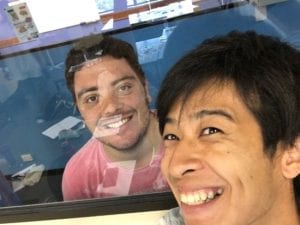 because our school had moved to another location and is very modern so I'm looking forward to going to school every day. And also my ex-teachers and ex-schoolmatesare still there: Gabriel, Maricia, Bruno, Manami and Masa. I'm really glad to see you and study together again.
I promise you guys. I'm not going to graduate until I go to Advanced Class. That's why I came back.
Yuya Yamaguchi / Upper-Intermediate