How did you celebrate Halloween? It was the first time for me to enjoy Halloween in Australia. We had an event and a costume competition at school. I dressed up as a policewoman for Halloween.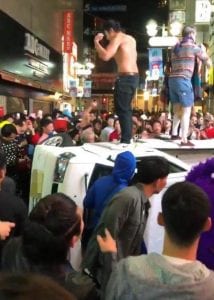 In Japan we didn't celebrate Halloween before, however for young people it's becoming one of popular annual events more than before, like Christmas or Valentine Day. They don't care about the history or the meaning of Halloween. They just enjoy dressing up, putting on makeup and gathering together. It's like a cosplay party. On the night of 31th October, there are so many people who dress up in Shibuya, especially the scramble intersection in front of Shibuya station.
I saw news about a Halloween event in Tokyo. Last weekend there was a Halloween event in Shibuya, during which a large number of people gathered and held a parade. Some of them turned riotous to the point that they turned the truck over and lay on its side!
Some people were already arrested for molesting. After this event, there was so much litter on the streets. They threw away it on the streets, not to trash bins. It's such an embarrassing and stupid problem in Japan.
Some people picked up the rubbish the following day. I hope everyone enjoys the event peacefully this time and keeps good manners.
Yuko, Upper-Intermediate