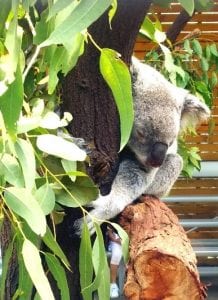 Hi guys, I'm Nao. In this article, I'll talk about some of my weekend adventures in Cairns. I usually prefer staycation to a lively holiday, but I am going to stay here for a month only. I don't have enough time to do many things in Cairns, so I'm being an active person this time.
My first destination was Wildlife Habitat in Port Douglas. We met many unique animals there. I'd never seen most of them,  even in pictures. To be honest, I never thought koalas were cute, but their position when sleeping or clinging to a tree was so lovely. They are said to sleep for more than 18 hours per day. I'm envious… I'd like to live like them… We held a koala and took a picture with it. We enjoyed feeding and interacting with the kangaroos. My favorite animals were small birds whose appearance was similar to owls.
Next one was my next trip was to the Great Barrier Reef, of course! Actually it had been 7 years since I last swam. In addition, it was my first swimming and snorkeling in the sea.  Everything was new to me, so I didn't know anything and I was a little bit nervous…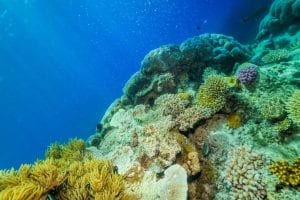 I jumped into sea fearfully.  At first I couldn't use the snorkel well, and I swallowed a lot of sea water… so salty… However, I finally got used to it!  The scenery was absolutely memorable: the colorful fishes and coral reefs were like a jewelry box…!  Unfortunately, we weren't able to see any turtles, however, we didn't encounter any dangerous sea animals such as jelly fish, sharks and so on either.  We also enjoyed relaxing on the sundeck of the boat (but I should have been more careful not to get sunburnt…. as it's really painful now).  The only nightmarish moment was the ship's pitching.  I really hate… no, I LOATHE the feeling of falling.  I wanted to lose consciousness every time we hit a big wave.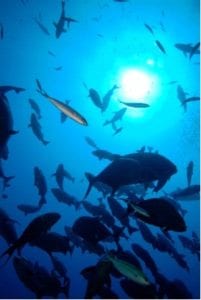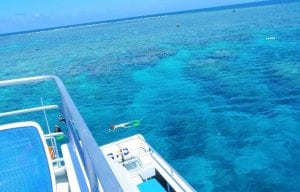 But all in all, I was satisfied with the day.
On the last weekend I went to Paronella Park which I had really wanted to visit. We explored the park by ourselves at first. For most Japanese, Paronella Park is a popular sightseeing spot as the similar location of Laputa, the castle in "Castle in the sky", one of the most popular Studio Ghibli's films. So, we enjoyed the ruins and the rain forest. After that, we took a night walking tour. We had a Japanese tour guide, so we could fully understand what he said about the background of Paronella Park.  Mr. Paronella was so ambitious and romantic! Some of the stories were humorous and heartwarming.
We fully enjoyed the Park in two different ways. We also happened to see some striped fireflies.  The climax of the tour was lighting up the old café. It was fantastically beautiful! It was surprising that the background music was the theme song of "Castle in the sky"! The tour was strongly conscious of Japanese visitors even though the park wasn't actually modeled in the film.
The above all are 3 of my most impressive experiences here. Not only did I enjoy them but also I learnt and found out new things. Everything was totally unforgettable. I hope I'll enjoy the rest of my days in Cairns, too!
Thank you for reading!!
Nao Ota