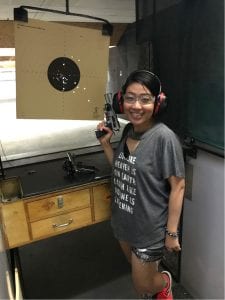 I do like shooting guns. When I was a child, I belonged to an Archery Club. The archery had a 70 m range for girls. I really liked it when I was focusing on targets. The cover photo is of me when I was a high school student.
I have visited the gun shooting range CRM GUNSPORTS in Cairns twice. The gun shop has heaps of various equipment. All the guns were heavy and bounced up while I was sniping. I want to shoot 44 Magnum again.
Below is a video in which you can see me shoot guns.
Yuki Kai, Upper-Intermediate
Thank you for reading, guys.