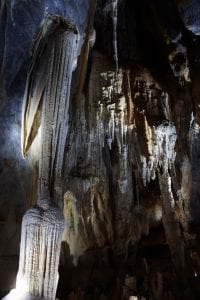 I went to Chillagoe caves in my friend's car at the weekend. It took 3 hours one way from Cairns City so we booked a guest house. I stayed there with 5 people. One of them is a photographer working in Michaelmas Cay. His photographs are wonderful. I'm also good at taking pictures. I invited my schoolmates to go on that trip with me and my friend.
We left Cairns City at 7 am. On the way we took a break in Mareeba because we had to buy something to drink. My throat dried up because the air was dry and it was hot there. The way from Mareeba on was just like a desert. When we arrived at the guesthouse, everyone was drinking water immediately. We had a barbecue lunch. We cooked beef, chicken and some vegetables. I ate my lunch sweating.
After that we went to see the 6 limestone caves. To enter 3 of them you had to pay a fee and to go on a guided tour so we couldn't go that day. However, the other 3 caves were available without an entrance fee or a guide. It was dark and we couldn't see anything. We entered the caves using our phones as torches. It was like an expedition. The road was steep, sometimes with some rock climbing, sliding and crawling. I was scared but it was fun. We saw a stalactite, which we then touched. It was very hard and heavy. It has been growing for hundreds of millions of years. When we came out of the caves, we were drenched so we took a bath as soon as we got back to our guest house.
After that, we ate dinner. Everyone was exhausted but we went star gazing. Many stars were very beautiful, and sometimes a shooting star was seen. It was my best memory when we took pictures under the stars.
The following day we booked to go to the remaining 3 caves. The guide told me more about the caves and he spoke English slowly for us. His talk was easy to hear and I could understand most of it. We finally saw all the 6 caves. We had a wonderful experience.
If you want to go there, it's definitely recommended!!
Yuri, Intermediate Class