I enrolled in a general English course at CCEB in April. It has already been 10 months. It seemed long but it was short. I had a really good experience that I'll treasure for the rest of my life. On the first of April, I arrived in Cairns. At that time Japan was still cold, so I was wearing long sleeves but I noticed it wasn't necessary because the season was the opposite of Japan. Even though it was early morning, my host family picked me up from the airport. At the time I couldn't speak English well and I didn't understand everything my host mother said on my welcome.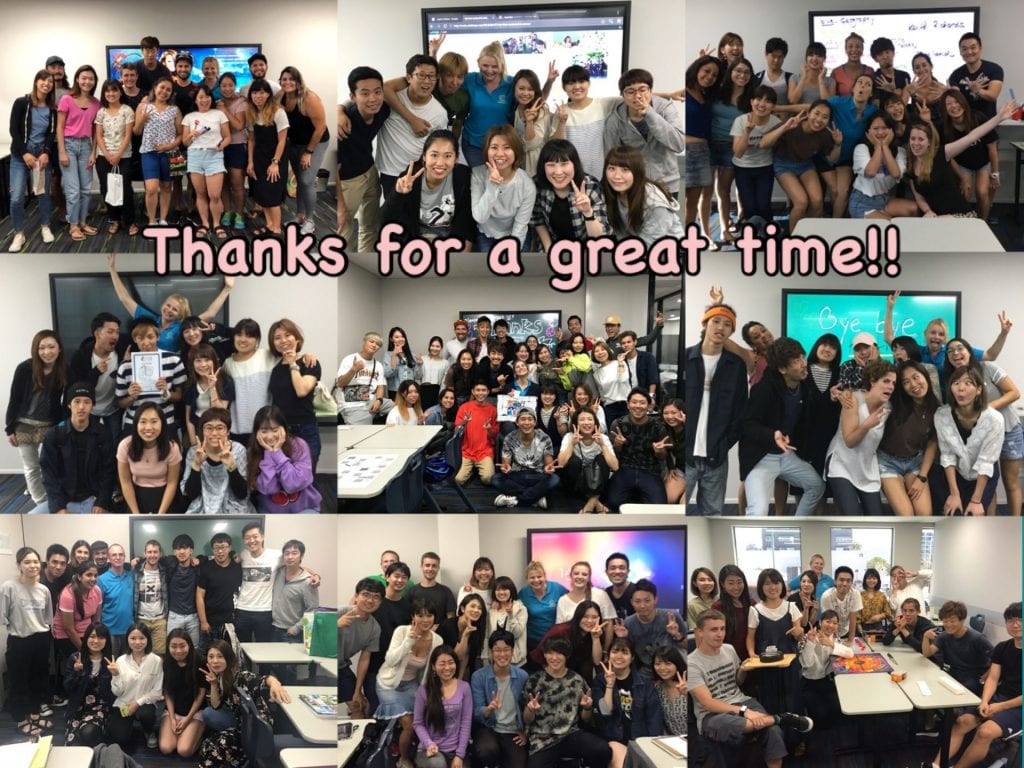 My CCEB classes started on Monday. On the day I enrolled at CCEB, I had no friends and couldn't talk about anything. After taking the exam, I was assigned to the elementary class. Actually it was tremendously embarrassing for me because I had already studied English in Japan but the problem was I still couldn't talk yet. Then I decided to achieve my goal which was to be able to speak English and to make international friends up to my graduation ceremony. From the day I had a daily routine of studying English. After school I usually went to the library and talked with a schoolmate of a different nationality in order to improve my speaking. Finally, I advanced to the pre-intermediate class and in addition made more friends. CCEB was fun every day and even on the weekend.
I went camping to Tinaroo Lake in a friend's car and watched innumerable stars in the sky. I saw a shooting star there for the first time. I still remember that clearly. Sometimes I did scuba diving in the Great Barrier Reef. The ocean was really beautiful and felt  like visiting a different world. I encountered the sea turtle and anemone fish that became a model of Finding Nemo.
I was able to gain an important experience. At that time, CCEB was holding an opening ceremony. When my lovely teacher invited me to do an internship, I was happy to participate because I used to work in the hospitality industry in Japan and could use English. I was happy to accept this role. On the ceremony day plenty of guests came to CCEB. We were serving them champagne, wine and lots of special snacks. It was exciting to have an unfamiliar experience of serving food and drink at the opening ceremony. It was then that I leveled up to the intermediate class and set myself a  clear goal which was to travel to many cities in Australia. The holiday began and I went to Perth, the Gold Coast, Brisbane, Melbourne and finally Sydney. Every place was fascinating and full of friendly people. For example, a walker helped me when I had got lost and I became good friends with someone I just met in the backpackers. We had a gossipping over a cold beer for more than 2 hours. Then, for the first time I noticed it was good for me that I had been studying English. On New Year's Day I saw Sydney's fireworks display with my friends who had already graduated from CCEB. I was so happy to be able to see everyone again. I got a lot of great memories during that trip.
Finally, I advanced to the upper-intermediate class and I graduate from CCEB in February. My time in school will be one of my happiest memories. I feel sad but I think this graduation isn't an end, it's a start. I'll definitely study English harder when I get back to Japan in order to have a good conversation with people of different nationalities. Also, I look forward to the day when I visit Australia again. At that time, surely I'll be close to native speaker!!
Thank you for reading this blog post to the end.
Yuri Akinaka, Upper-Intermediate