Hi, my name is Rafaela and I'm a 24-year old Brazilian girl who graduated in general biology. I came to Cairns because of its nature. There are a lot of amazing places here like waterfalls, beaches, lakes, the reef, zoos, the Botanic Garden, the Aquarium, the Lagoon and many more. Among other amazing things Cairns offers, such as tropical plants, waves, sunsets on the beach and rocks, it also has beautiful wildlife.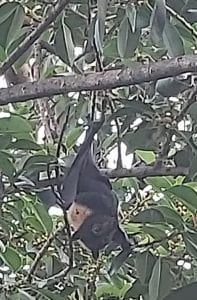 I've been here in Cairns for one week, so I haven't managed to go to many places, only the Lagoon. However, I saw different animals I had never seen before. In particular one plant and one animal attracted me. The first one is bats called flying foxes. They are bigger than bats in Brazil. They are fruit bats which at the end of the day fly in the sky in big colonies, which is so beautiful to watch. The plant that I like is white, with six yellow stamens and it is a bush. I saw it near the shopping mall in the center of Cairns (see the cover photo).
I am going to stay here in the city for 7 months and in this time I want to visit many interesting places, encounter a lot of animals, among others, kangaroos, koalas, sharks, turtles, spiders, and most importantly, the corals. I think that Cairns is the best place in the world to enjoy wildlife and I chose to live here because of it.
Rafaela, Intermediate Class