I had the opportunity to visit this beautiful place. It was an amazing experience that started early morning with a train trip during which I could admire enchanting landscapes such as the rainforest, waterfalls, rainbow and beautiful nature in general.
Once I arrived in the heart of Kuranda, I was able to connect with the rainforest, trees, birds, plants (even poisonous), rivers and different tropical landscapes.
One stop during the trip was to taste and enjoy the different foods available in the restaurant. We tried the following meats: kangaroo, beef, chicken and pork.  There was a selection of different salads, rice, fruit and an unusual crocodile soup.  I totally recommend the menu!
After lunch, it was really nice to be up and close with the kangaroos, pat and take pictures with them.  It was even more amazing to be able to hug a koala! Also it was possible to experience different animals such as snakes, spiders, tasmanian devils, birds, and many more.
I also found out more about the culture of the aboriginal Australian people. It was amazing to see the different activities they were practising, like dances, music, hunting methods and boomerang throwing.
My adventure finished with an astonishing trip by SkyRail.
During the 7.5 km long journey over the world heritage listed rainforest you have the opportunity to see this imposing forest from another perspective.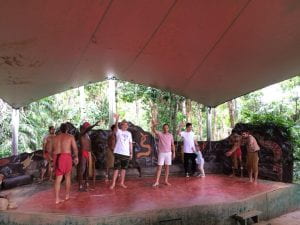 So, to sum up, this was an amazing new experience that allowed me to explore the greatness of the rainforest from different perspectives, accompanied by very tasty food.  What a wonderful combination! Totally recommended!
Carlos, Intermediate