I went to Palm Cove.  It was very quiet and a very good place to heal a tired body.
Palm Cove is about 40 minutes by bus from Cairns and the buses depart every hour from Cairns Central or Cairns bus terminal.
Palm Cove has a beautiful sea.  It's good to swim or just look at the waves and eat in a lot of good-looking restaurants. If you swim within the safety net, there is no risk of being attacked by dangerous animals. By the way, when I went to Palm Cove, I ordered an Aussie beef hamburger (I think it was called Aussie Aussie Aussie) and the Great Northern Beer at a store and ate it. It was great because I felt the pleasant wind combined with the feeling of getting a bit tipsy.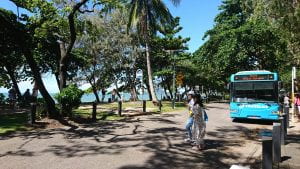 And there are other interesting activities as well, for example fishing. There is a pier and we can enjoy fishing there. I don't know what kind of fishes we can catch, but if you like fishing you, you will definitely enjoy it.
Hiro, Pre-Intermediate