My name is Karol Lisseth Gamboa Pallares. I am from Colombia, a beautiful country recognized for its multiculturalism and friendly people.
Since childhood I have had connection with art. My first experience with art was through dance. Before singing, I practised dance. I started to participate in Colombian folk dance groups since I was 4 years old.
However, I could not continue my dance practice, the hobby that I loved. The doctors found a degenerative problem in my right knee, and had to operate. As a result of this, at 18, I discovered that I had a talent: I can sing. So I just swapped my dance with singing!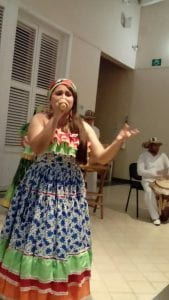 I began to venture into the world of singing in a musical project called SINFONORTE. There I took my first singing lessons. I was a member of various groups in my city such as BOCAQUIUSA choir and SINFONORTE choir.
At the age 19, I joined the musical band at my university, playing folk music from Colombia such as cumbias, bambucos, merengue as well as traditional songs.
I really enjoy singing!
In 2012, I was the vocalist of a local pop rock band from my town called B-sides. I have good memories of working with this group, of which I was a member for over 4 years. Also I participated in other typical Latin American bands, singing Latin music such as merengue and salsa.
In 2016, I was one of the vocalists in a traditional drum tamboras group of the Corporación Universitaria Minuto de Dios. I participated in many different festivals singing representative songs of my country. I love Colombian folklore as it is rhythmic and it invites you to dance and enjoy the sound of the drums.
TEACHING MUSIC!
In my country, I have also had the opportunity to work as a singing teacher with children, youth and adults. It is a lot of fun for me to be able to share my knowledge with other people.
Today I am in Australia, and I want to take the opportunity to share the music of my home country. CCEB, the college that I'm studying at, gave me a chance to pursue my hobby by letting me run singing classes for our students. I'm super excited!
If you want to hear me sing, feel free to contact me through the details below: