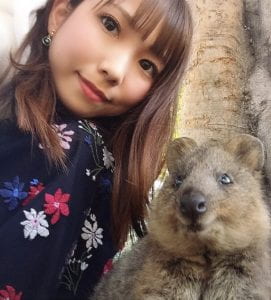 Rottnest  Island is located in the Indian Ocean off Western Australia. It's 18km from the coast of Perth, the capital of Western Australia. It takes 30 minutes by boat from Perth. Rottnest Island is the most popular tourist destination in Perth, where 500,000 people visit annually.
The island is designated as a national park and has many precious species of animals and plants. You can encounter a quokka (Setonix Brachyurus) on the island. Quokka is a marsupial and is called "the happiest animal in the world" because it seems to always smile. And it's soooo cute!!
The size of the quokka is 40 to 50cm. There about 10,000 on the island. Quokka is friendly and you can take photos together.
A Dutch explorer visited this island first in 1696. He saw a quokka and thought that it was a rat. Rottnest Island means "rat nest" in Dutch.
Do you know Pikachu? Pikachu is the character of the Japanese anime "Pokemon". The model of Pikachu is said to be quokka.
There are 63 beaches on the island and you can snokel and dive there. There are plenty of activities such as cycling, bus tours and diving.
You should go to Rottenest Island.
Misa, Pre-Intermediate