Hi, there, I'm Ayano from Shizuoka in Japan. I've been here in Cairns for 6 weeks. Let me introduce my home town Shizuoka.
Shizuoka prefecture is located almost in the heart of Japan. It's near Tokyo, the capital of Japan. The shape of the prefecture looks like a gold fish, which is easy to remember. It consists of 35 cities.
We have about 4 million people in Shizuoka. It is said that the typical personality in Shizuoka is mild, quiet, relaxed and cooperative. So we are not as funny as people in Osaka but not as serious as people in Tokyo. The climate is also mild. I guess that's why we are called mild and laid-back.
As far as history is concerned, one of the Japanese famous bushi, Tokugawa Ieyasu, used to live in a castle called Sunpu in Shizuoka in 1549. The Sunpu castle is still standing. I used to work at a school behind the castle so I could see it every day. It's surrounded by water, which looks so cool. It's a symbol of Shizuoka city.
We have many different means of public transport: planes, Shinkansen which can run the fastest in Japan, trains called JR, buses, taxis and so on.
The most popular sport in Shizuoka is soccer. However, my younger brothers have played baseball since they were children. I'm familiar with baseball. We have a brand new baseball stadium, a track and a field and a soccer stadium. Rugby is getting more and more popular because of the Tokyo Olympic Games in 2020.
Generally, it is said that Shizuoka is famous for oranges, green tea and rice. My grandparents are farmers and they grow green tea and rice in the field. I sometimes helped them so I could see how hard work on a farm is. The fresh tea and rice are amazing. I respect and appreciate my grandparents. Now I just would like to tell you about our local restaurant, SAWAYAKA. You can only visit it in Shizuoka. The Hamburg steak is so popular. You have to wait to be served for 2 or 3 hours sometimes. The food is absolutely delicious. It's a special Shizuoka's cuisine. It's worth waiting for. Please try it if you have a chance.
In my home city in Shimada, we have beautiful places to visit. I recommend that you come to Shimada in April because you can see stunning cherry blossoms everywhere. We have a steam train, too. My favourite place is Hot Spring. You can use the facility for 5 dollars only and you can see the steam train from there.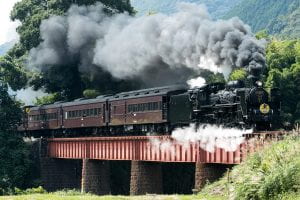 Shizuoka prefecture has both beaches and mountains. We have the world famous suspension bridge, beaches with hot springs, ranches, and a big shopping mall as well. Here, we can do anything we want. So I really love my home town and will be happy to see more overseas tourists. I hope Shizuoka will become more popular and will always have these wonderful attractions.
Ayano, Intermediate