I had the opportunity to discover Kuranda through my internship at CCEB Travel Desk, which allowed me a great trip with two of my team mates.
The day started at 8.30 am when Tropic Wings picked us up at the nearest hostel to our houses and set off on our journey to Kuranda by bus. The route is beautiful but if you get carsick I recommend you take a pill or travel by Skyrail. This is a really good way to get to Kuranda because you can enjoy two stops with views of waterfalls and a rainforest.
Rainforestation Nature Park is located 10 min away from Kuranda by bus. The park staff received us welcomingly, explained all our schedule and gave us wallaby food to have a great experience with these Aussie animals.
The Koala and Wildlife Park is located in a small part of Rainforestation. There are a lot of friendly wallabies which you can touch and feed, and you can also see other local animals like crocodiles, koalas, dingos, Tassie devils, cassowaries, kangaroos and different kinds of reptiles. Of course you can take a photo with a Koala.
The best attraction of this park was the Aboriginal staff who taught us their customs – boomerang throwing, spear throwing (they have two Guinness Records in this sport) and didgeridoo playing. The didgeridoo is a musical instrument that they make from local trees and has a really good sound. It is the principal instrument that the Aborigines use for the Pamagirri Dance. We were able to witness 30 mins of this exciting performance of traditional dance.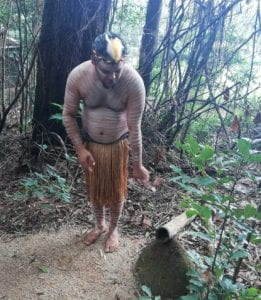 Another attraction is the Amphibious Army Duck, which is a mix between a bus and a boat so you can discover the rainforest on land and water, with a guide showing different local plants and trees.
At 12.00 we went to the restaurant and enjoyed a great hot and cold buffet. You can eat everything you want and they also have vegetarian or vegan options. We tried kangaroo and crocodile meat!!!
An hour later, we continued our tour with a walker guide around the rainforest, learning more about the natural pigments that aboriginals use to paint their bodies in ceremonies,  the properties of plants and trees, and how they make musical instruments, hunting weapons and houses.
We said goodbye to this park after painting our own art work with aboriginal techniques.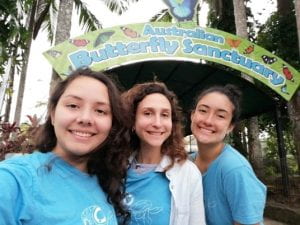 To complete our tour in Kuranda, we went to the Butterfly Sanctuary where you can find a small garden with so many butterflies flying around you.  There's such an amazing range of diverse shapes, colours and sizes of these beautiful insects. We learned so much about their life and the evolutionary process!
At 4.00 pm our bus was waiting for us to return to Cairns. But if you want you can take the Scenic Train to come back and enjoy the sublime view for two hours.
Paola Perez Ubino