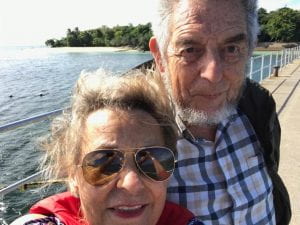 Last weekend, we went to different and beautiful places. On Saturday, we travelled by car. We went to Wooroonooran National Park. There is a beatiful rainforest there with the trunks of trees which have a big size and are very tall. Also we walked several meters through the water in the river. The water was very cold but it was enjoyable. Then, we went to see great waterfalls but we couldn't swim because it was raining. After that, we continued the trip and stopped to see some tree kangaroos that were sleeping.
On Sunday, we were travelling among mountains and cliffs, to Kuranda by Skyrail. The landscape was composed of majestic mountains and an ancient rainforest.
In Kuranda, there are so many attractions to visit. The village is beautiful. We visited Koala Zoo where you can see wallabies, kangaroos, koalas, crocodiles and other animals. Also, we went to Bird World Kuranda. The birds were flying around free and anyone could touch them. Finally, we went to the Butterfly Sanctuary and we saw different families of butterflies.
I am very happy and enjoying living in Cairns and going to school.
Margarette, Pre-Intermediate