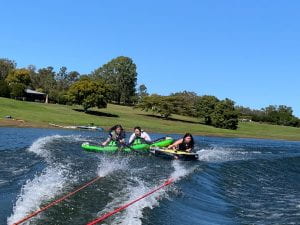 Last Friday, I went to Lake Tinaroo. My previous host family took me to that place and they gave me a very good opportunity to try water skiing.
My host family's relative and their friends came there too. Last  week we had a 3-day holiday. So they stayed home and enjoyed themselves. I didn't stay with them because I had plans for Saturday, but I enjoyed the day.
I tried water skiing for the first time. The lake was a little bit cold. The host family's granddaughter taught me in English how to do it. I couldn't understand her because my listening skills are not very good and the sound of the water splashing was very loud. But I tried to mimic her and I was able to water ski!
I thought it was a little bit scary but very exciting. I had a very good time and a very good experience. I really appreciate my previous host family!
Ayaka, Intermediate