Hi, my name is Minako. I organised a Gyoza party last Saturday. Gyoza is Chinese food but it's very famous in Japan. Gyozas are fried dumplings with vegetable and meat ingredients in a flour wrapper. I used pork mince and Chinese cabbage, garlic and ginger. I mixed and wrapped them by hand.
Together with my friends, we made 120 Gyozas. It took a long time. We started to cook at 3:30 pm and finished at 6:00 pm. While we were making Gyozas, we were listening to Japanese songs.
Gyoza is very difficult to fry. But my friend is good at cooking. They looked very beautiful and also tasted good! We couldn't eat all the Gyozas so we took some home.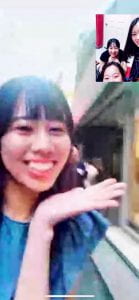 We called our friend Chihiro who had gone back to Japan. We wanted to tell her "please look at this blog".
Minako, Pre-Intermediate