I went  to Kuranda on Sunday which was a very beautiful and sunny day! Most students studying in Cairns have been there once but I'm convinced few people got lucky with such great weather. Kuranda is surrounded by rich nature such as waterfalls and rainforests. It's very relaxing just taking a walk in the rainforest.
There are two means of transportation to Kuranda: Skyrail and the tourist train. Our tour included both, so I went up by Skyrail and came back by the train. It took about 2 hours, however it didn't feel that long because we were enjoying natural landscapes. We could get off the train or Skyrail at two stops. One stop was in the rainforest and the other one in front of the waterfall. Though, there is little rain happening at the moment and the waterfall is not overflowing this season.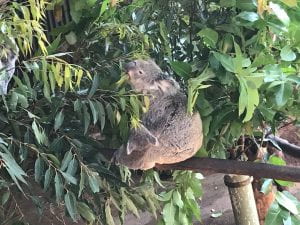 The most impressive place was definitely the national park. I love animals so much but I'd never seen kangaroos or wallabies even though I've been living in Cairns for a while now. The national park never let down the people like us. There are lots of animals that represent Australia such as wallabies, kangaroos and koalas. It was my first time to see them and I could even feed them. They were so friendly to us, and never ran away when we touched and patted them. Some of them even started approaching us whenever they realised we were there. More than anything else, I was happy I was able to watch a koala eating lunch. The keeper told us that they sleep almost all day so it is hardly to see them active.
I had an incredibly great time in Kuranda. I recommend it to everyone who has been feeling tired and wants to feel relaxed and I hope you can experience Kuranda in perfect weather like I did.
Yuriko, Upper-Intermediate