Hi! I'm Minako. I went to New Zealand with my friend, Ayaka.
It was very cold even though it was the beginning of spring. We saw many cherry blossoms blooming.
On our first day, we went to Christchurch. When the earthquake hit the city in 2011, many buildings collapsed. But almost all the buildings have been restored and it was very beautiful. We walked around Christchurch and took many photos.
Next day, we went to Lake Tekapo by bus. It takes two hours. Lake Tekapo is absolutely enormous and very beautiful! When we arrived there, it was such good weather! I could see the lake shining in the morning and I watched many stars at night. We joined a star gazing tour. It was very interesting and we learned about many constellations. We ate stone-cooked lamb for lunch and a salmon bowl for dinner!!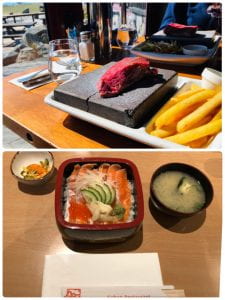 On the third day, we went to Skyline Gondola in Queenstown and we got on the gondola there. It was rainy but we could see beautiful night views and we had buffet dinner there. It was really delicious. I ate beef, seafood and sushi!!
Next day, we went to Doubtful Sound. We had planned to go to Milford Sound but we couldn't go there because the weather was bad and there were bad conditions on the roads. The way to Doubtful Sound is not easy. We got two buses and two ships and it took 5 hours. I was very tired but the journey was worth it as the place was beautiful with a lot of nature! There were very huge nature. There are many seals but  we could see only one.
On our last day, we went to Mount Cook. It was cloudy, so Mount Cook was covered with clouds. But we could see the top of the mountain only. Our tour guide said you usually can't see the top of the mountain. We were very lucky!
New Zealand is a very beautiful place! If I go to New Zealand again, I want to go to Auckland.
Minako, Intermediate