I would like to write about this course.  If you want to do it, it takes 4 weeks at CCEB. You can get some certificates such as RSA, RSG, food safety and others. In the first week you start learning about coffee and every day after class 2 people have coffee training. You start by doing cappuccino and latte. Then, a bit later in the course, a teacher talks about alcohol and some rules that you must know about when you're working in some places that sell alcohol. In Australia when someone is drunk, you shouldn't sell alcohol to them and if the government officials catch you, you can get a fine.
In the second week we did a pop-up restaurant and RSG. The pop-up restaurant was a function held at school. We organised it in one of the classrooms on the first floor and some teachers came to eat with us. We could either be waiters or kitchen hands because we did  this activity 2 times so we were able to try both. Later she teaches about gambling and shows some companies that it can help you if you have gambling problems.  On one Friday, we went the casino to see some signs and talk with some people who work there. In that week from Tuesday to Thursday after class we learned how to sell tours which was so nice.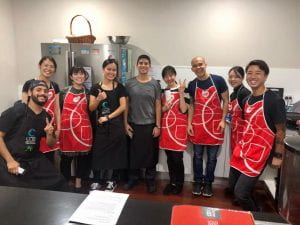 During the third week we did the second pop-up restaurant but we changed our roles then (waiter to kitchen hand and the other way around). We also worked on the food safety certificate, which took place in the computer room. After that we prepared some information to explain about different wines because on Friday after class we had a wine tasting  activity. It was so much fun and the reason I enjoyed it so much was that our guests look delighted. They could try 4 wine types and eat some finger foods which we had cooked.
All in all, I really recommend the course to everyone!
Juan, Intermediate Class