I think today's English education in Japan faces many difficulties and that's why Japanese tend not to be good at speaking English. First of all, as I felt reluctant to speak English myself, I had to find out whether Japanese really have some barriers to speaking English or not. I carried out a survey on 85 students at WASEDA University in Japan. The results are presented below.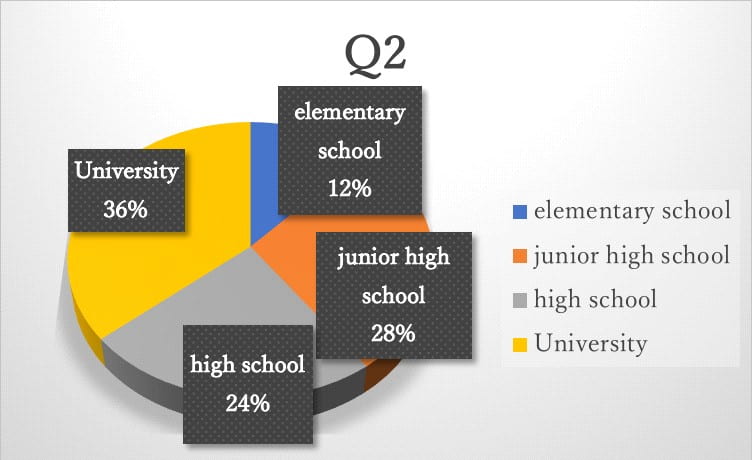 As seen above, about 60% of the Japanese students felt reluctant to speak in English. In addition, most of them started to experience the obstacle when they were junior high school students or older. I was convinced what I felt was true, and realized it's easier for many Japanese to show aversion to speak English when they are older.
I considered why Japanese tend to feel resistance to speak English. Firstly, Japan doesn't have a decent education in elementary school. I found data on English education at elementary schools in Japan and some other countries.
Korea

China

Taiwan

Thailand

France

Introduction

time

1997

(as

a compulsory subject)

2001

(as

a compulsory subject)

2001

(as

a compulsory subject)

1996

(as

a compulsory subject)

2002

(decided to start as a compulsory subject)

Grade classes start

3rd~
3rd~
3rd~
1st~
2nd~

How many classes in a week

3rd, 4th

: 1 in a week

5th, 6th

: 2 n a week

40min/1 class

more than 4

in a week

20 or 40 min

/1 class

2 in a week

40 min/1 class

1st~3rd

:2 in a week

60 min/1 class

2 in a week

45 min/1 class

Contents

3rd: listening

4th: speaking

5th~: +writing

based on

activities

mainly:

listening,

speaking

communication

with learning many words

based on

communication

+international understanding
(According to MEXT in Japan:
http://www.mext.go.jp/b_menu/shingi/chukyo/chukyo3/004/siryo/attach/1379971.htm)
In today's Japan, all elementary schools must conduct "Foreign language activities" classes but there are no tests or assessments. From next year, English classes will be conducted as a compulsory subject at last. It means we cannot compare Japan with many other countries now in terms of English education in elementary schools. As my questionnaire shows, we can understand it is easier for younger people to learn foreign languages. And as some researchers put forward a 'critical period hypothesis': it is important to learn languages while we are young. So it's crucial to conduct English classes in elementary schools and make opportunities for children to use and be in touch with English more.
And in Japanese schools, many teachers teach English let alone in mostly Japanese and students have few opportunities to use English in English classes, their everyday lives. In my questionnaire carried out at WASEDA University, I asked 2 more questions.
As seen above, in junior high and high schools in Japan, there are few opportunities for students to use English as even teachers hardly ever speak English. I thought Japanese tend not to be good at communicating in English, and we can now understand the reason studying these pie charts. Japanese hardly ever speak English during classes. If you don't speak or listen to English in class time, it is difficult to communicate in English. I think one of the reasons is the purpose of education in Japanese school. Many students study at their schools with the objective of passing the entrance exams to high schools and Universities. In those English exams, the most important components are reading and grammar, so their classes obviously have to focus on grammar and reading. As a result, teachers cannot spend plenty time on communication. The Japanese government is planning to change this situation and the entrance exam system because it understands how important communication is. But no-one knows whether it will work or not.
I think English skills of an average English teacher in Japan are also a big problem. There are many English teachers who don't have sufficient skills to teach English well.
The Government requires English teachers to have more than CEFR B2 level skills, but just less than 35% of teachers possess those skills. It is a serious problem. I think this might be one of the reasons we don't have enough communication in English during English classes, as many teachers cannot speak in English a lot. The traditional style of teaching English in Japanese school is teachers explaining grammar in Japanese, translating sentences into Japanese, and reading aloud together. Even if teachers don't have sufficient English skills, they can still teach English in these ways. In order to change this style of teaching, many English teachers will have to study English more.
I have presented the current situation of English education in Japan in this blog post. In my next article, I'll talk about how to change it.
Kotaro Kawamoto, Intermediate Class