I went to the Great Barrier Reef last Sunday. It was a wonderful day.
This time I was on the boat called Dreamtime going to the outer reef, departing at 8:00am.
When we just arrived on board, there were coffee, tea and some muffins served on the boat. After that, the crew started talking in detail about how to use life jackets and snorkelling gear. Most of crew staff are Indigenous and they showed us equipment which was used in the old days and the music they made from it.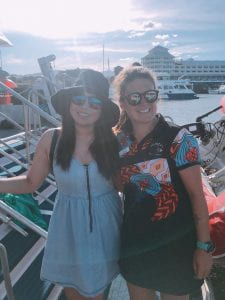 We went to two different reef sites. I saw a variety of corals and tropical fishes at the first spot, and then I had a fantastic scuba diving experience at the second site. I didn't see a sea turtle but many eagle fish and a few Napoleon fish and some lovely marine life whose name I don't know. Virginia, who was my certified guide, was a very kind and patient person. If someone didn't like scuba diving, the company offered free snorkelling gear and a glass bottom boat or other optional activities, like a helicopter flight.
After those activities finished, they served afternoon tea on the boat, then after some rest, we enjoyed the sea breeze blowing. The trip was worth every penny. I think I would like to go on Dreamtime again.
Queenie, Intermediate Class